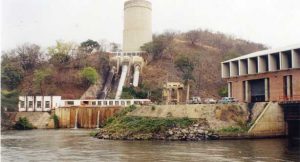 Power generation up by 50 megawatts
Electricity consumers, especially in Blantyre, have been enjoying consistent power supply since Wednesday April 5, 2017, following the partial opening of the Kamuzu Barrage.
Both Minister of Natural Resources, Energy and Mining, Bright Msaka, and Electricity Generation Company Limited spokesperson, Mervin Mchenga, confirmed the partial opening of the barrage.
Mchenga said the increase in the water levels has translated to increased generation by 50 megawatts (MW) from the previous major hydro operating capacity of 180- 200MW to 252MW at the current flow.
Msaka said the opening of the barrage allows increased water flow which translates to increased power supply.
"For a week or two, we expect Blantyre residents to enjoy consistent power supply and we expect load shedding to be minimised during the Easter holiday," Msaka said.
Msaka said the government is working tirelessly to make sure that Malawians are supplied with enough power.
"By opening up the barrage, we are also trying to see how much power we will be able to generate when the rains stop," he said.
On the other hand, Mchenga said the flows at the barrage have been increased by about 30 cubic metres per second (cumecs) from 128 cumecs to 158 cumecs as of May 5, 2017.
He said after the seven-day initial opening, an assessment would be made on the lake levels and then a final adjustment would be undertaken to reflect the situation.
"The water levels have increased by 0.65 metres above sea level (masl) by March 19, 2017 from January 2017 levels of 470 masl to 473.65 masl. We can attribute this rise to the rainfall in Central and Northern regions as these are the main catchment areas for Lake Malawi. The rains are continuing in the north of the country and it is expected the lake level would also continue rising," Mchenga said.
(Visited 68 times, 68 visits today)
Latest posts by Vanessa Banda
(see all)