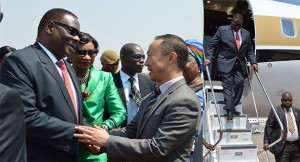 President Mutharika returns from China with promise
President Peter Mutharika returned from the World Economic Forum (WEF) in China with a promise that Malawi will continue to benefit from the Republic of China through a number of projects that are in the pipeline.
The president made the remarks upon arrival at Kamuzu International Airport in Lilongwe today. Mutharika discussed the development projects in the sidelines of the forum with Chinese Prime Minister Li Keqiang.
"There are about seven projects which the two Governments have agreed to work on and Minister of Trade and Industry will go to the Peoples' Republic of China to meet with Minister of Commerce to look at the technical details of the projects," said Mutharika
Mutharika who did not give out the details of the projects which are yet to be established said this is in terms of technical and financial support from China.
Mutharika also said Malawi would benefit a lot in terms of implementation of its economic reforms.
Other projects which Mutharika mentioned when he was in China were about the construction of water reservoirs in the country.
The Malawi Government Online page wrote that while in China, the Malawi President toured about seven irrigation schemes and concluded that water harvesting can help Malawians to have adequate food throughout the year.
It added that China is a crucial partner to Malawi Government since 2008, they have been supporting Malawi in a number of areas such as irrigation and infrastructure development and it is also a free trade area for over 400 products.
(Visited 11 times, 16 visits today)
Latest posts by Vanessa Banda
(see all)