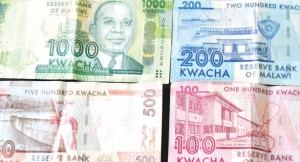 Pressure piles on the kwacha
A few weeks after the close of the tobacco marketing season, an investment advisory firm Nico Asset managers has warned that in the medium to long-term pressure will continue to mount on the local currency, the kwacha, on account of the significant current account deficit and weak investment inflows.
In its September 2015 Economic Report released on Monday, Nico Asset Managers said the situation is expected to be compounded by the onset of the lean season, coupled with the continued withdrawal of support from Malawi 's traditional partners.
"The magnitude of the currency depreciation in 2015 may be cushioned by the level of foreign currency reserves available after the tobacco season and if the Reserve Bank of Malawi decides to intervene in order to reduce the rate of depreciation.
Nico says a depreciating exchange rate may increase the cost of imports and lead to a further widening of the trade balance. Rising prices of imports may also put pressure on the inflation rate to increase.
As at noon yesterday, the dollar was trading at around K610 in forex bureaus up from K430 in June 2015.
Reserve Bank of Malawi (RBM) Governor Charles Chuka last week pointed out that though the situation remains tough, Malawi will not degenerate into a crisis following the pronouncement that Malawi's programme with the International Monetary Fund (IMF) is off-track.
RBM has in recent months stated that it will continue to implement a tight monetary policy that is in tandem with the current fiscal policy.
(Visited 1 times, 1 visits today)
Latest posts by Vanessa Banda
(see all)