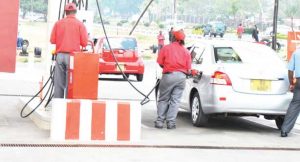 Price Stabilisation Fund elastic—Mera | The Times Group
The Malawi Energy Regulatory Authority (Mera) has said that there is no veil of secrecy around the amount of money that accumulates in the fuel Price Stabilisation Fund (PSF).
For the past 11 months or so, Mera has maintained fuel pump prices using funds from the PSF to cushion Malawians. This is despite a jump in international oil prices.
But Mera Acting Chief Executive Officer, Ishmael Chioko, said the PSF accumulates funds every time consumers purchase fuel hence difficult to estimate how much money is available at any given time.
Chioko said because the PSF keeps on changing, it is hard for Mera to give an exact figure on how much has been collected.
"As we are talking now, more money is trickling into the fund as more and more people buy fuel at the pumps," Chioko said.
Failure by authorities to disclose the amount of money accumulated by the PSF has resulted in Malawians speculating on a possible fuel price rise each month.
Chioko said K3 billion is enough to cushion a possible rise in fuel prices.
Commentators have argued that the perceived secrecy around the PSF amount provides room for abuse of money in the fund.
Last year, Mera secretly loaned state-owned grain marketer, Admarc, about K2.9 billion from the PSF to buy maize, a development that attracted a lot of anger from Malawians.
But Chioko ruled out abuse of PSF, saying the fund is subjected to intense audit to ensure that every tambala is accounted for.
(Visited 30 times, 30 visits today)
Latest posts by Vanessa Banda
(see all)