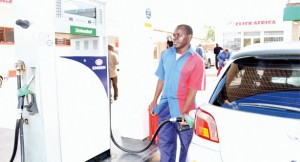 Pricing challenges delay Ethanol fuel
The Ethanol Driven Vehicle committee of Press Corporation Limited says it is waiting for government to decide on the proposed pricing model for ethanol fuel before it is rolled out to motor users.
The committee said this on Wednesday when it briefed reporters on progress on the project.
In April this year, the committee proposed a pricing model where the price of ethanol would be set at 80 percent of the price of petrol.
Among others, the team said it came up with the model considering that ethanol covers a less distance compared to the same litre of pure petrol.
The committee also considered that motorist will incur switching costs to procure conversion kits in addition to the fact that motorists will need an incentive to try the new fuel.
According to the committee, a meeting with Treasury asked Press Corporation to provide details of how much revenue government would forego by removing some levies on fuel.
The meeting also asked PCL to document, show and quantify clearly the benefits of ethanol driven vehicles.
Ethco general manager Lusubilo Chakaniza told reporters that the information was submitted to the Ministry of Financ e in May for evaluation.
"We are ready. As soon as they give us a go ahead to the price, we are ready to roll out even tomorrow," said Chakaniza.
Among others, it is believed that EDV will bring a lot of benefits to Malawian as it would help save forex for importing fuel in addition to providing an environmental friendly solution.
Chakaniza said the initiative would also result in job creation as more sugarcane farms and crushing factories will be opened.
(Visited 8 times, 8 visits today)
Latest posts by Vanessa Banda
(see all)