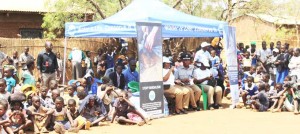 Private, public sectors gang up to fight crime
Electricity Supply Corporation of Malawi (Escom), Blantyre Water Board (BWB) and Malawi Telecommunication Limited (MTL) have teamed up with police to launch and roll out a massive national sensitisation campaign that seeks to enlighten the general public on effects of vandalism.
Launched Thursday in Blantyre, the campaign also seeks to sensitise people of consequences that go with vandalisation of equipment, for instance pipes, cables, transformers and many related items.
Escom's Regional Manager for the South, David Mbewe, said the three institutions have joined hands with the Malawi Police Service in the fight.
"There still exist many people that do not realise that vandalism of Escom cables and transformers, MTL cables, Blantyre Water Board pipes or meters have had dire effects," he said, on behalf of the organisations.
"Notably, vandalism chokes operations of our parastatals which in turn compromise service delivery. We are hopeful that after the campaign, things would change for the better," he said.
Commissioner of Police for the Southern Region, Demster Chigwenembe, minced no words, stressing that the law enforcers will not relent but use community connections to fish out the culprits.
"As police, we will make sure we support this initiative, which we are part of. However, we condemn the tendency by some communities of shielding individuals that vandalise such materials and also those that encourage the same through buying such things like Escom/ MTL cables, transformer oils; and water pipes and meters that are vandalised," he said.
He said it was sad that some people have died in hospitals while on life saving machines, after power blackouts emanating from blackouts that come because some selfish people have vandalised Escom cables or transformers.
"There are also many instances whereby people have contracted water borne diseases because water pipelines have been vandalised, hence people resort to use untreated [unsafe water] because the taps are dry.
(Visited 18 times, 18 visits today)
Latest posts by Vanessa Banda
(see all)