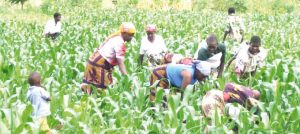 Private sector growth in agriculture stagnates
Private sector growth in the agriculture sector has stagnated at between one and a half percent and two percent in the past 13 years.
The revelations were made on the sidelines of the launch of a $4 million Malawi Innovation Challenge Fund (Micf) third -round irrigation window.
Agriculture contributes about 37 percent to the country's Gross Domestic Product (GDP) and employs over 80 percent of Malawians.
Director of Irrigation in the Ministry of Agriculture, Jeffrey Mamba, said the private sector is supposed to take a leading role in setting up irrigation projects as is the case in other countries.
"Over the past 13 years, we have seen private sector growth in the agriculture sector being at around two percent.
"The fund will allow the private sector to partner with the government and that way, we will help to uplift the lives of smallholder farmers by providing them with markets," Mamba said.
He said access to finance and land are some of the major challenges that contributed to the slow growth.
"When we talk to the private sector, they say access to financing and land are the causes. We are hoping that the new land law will assist in allowing the private sector to easily access land," he said.
Mtalimanja Holdings Limited Managing Director, David Kamchacha, said the fund will improve access to finance as irrigation projects are expensive to implement.
"The main reason for the slow growth is the high cost involved in irrigation and also the background as to where as a country we are coming from. The country had irrigation schemes from Karonga to Nsanje, which were well built but later abandoned. They were established as public entities, meaning the private sector had no access to them.
(Visited 11 times, 11 visits today)
Latest posts by Vanessa Banda
(see all)