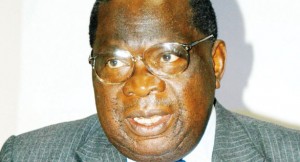 Private shareholding in development bank
Government says it will not own100 percent shares in the yet to be established development bank. Minister of Finance Goodall Gondwe said the bank will have a percentage of private sector shareholding.
"It's not going to be a government bank. It is going to be a bank with a lot of private sector initiatives in it, that is why we can't do it quickly," said Gondwe
However, the actual roll out of the bank remains uncertain as the finance minister did not set aside any funds for its establishment in the 2015/2016 national budget.
During his budget presentation, Gondwe said government expects the opening of the bank to help in filling financing gaps experienced mainly infrastructure and small scale agricultural development.
"Some development partners, particularly those interested in providing financing, have suggested that the government should instead consider establishing a development fund," said Gondwe in Parliament
Renowned economic analyst Thomas Munthali commended government for its plan to establish the development bank and said government should ensure independent corporate governance in the running of the bank.
"If we have government meddling in the affairs of the institution then it becomes a challenge, but having an independent executive board as an overseer of the bank's operations, will see it successful," he said
Gondwe earlier said apart from the initial K1.5 billion, K10 billion more was disbursed to help in the completion of the processes related to first stages of its establishment.
A feasibility study was conducted with financial assistance from the World Bank under the Financial Sector Technical Assistance project with approximately K62.4 million at the current exchange rate.
Initial estimates showed that the bank required an initial capital injection of US$25 million (K12 billion) but could commence operations with US$6.75 milllion, (K3.24 billion).
(Visited 14 times, 1 visits today)
Latest posts by Vanessa Banda
(see all)