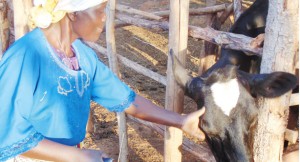 Processor, farmers fight over milk debt
A milk bulking group from Dowa is up in arms with a Lilongwe-based milk procession company over an outstanding debt of K1.7 million which dates back to last year.
Gondoli Mulk Bulking Group is accusing Malawi Dairy Industries (MDI) of stifling their business and welfare of farmers because of a long outstanding bill for the purchase of milk from the group.
However, MDI has refused to take responsibility for the debt which it says was incurred by previous management of the company.
Gondoli Bulking Group chairperson, Foster Banda, said the unpaid bill has affected the operations of the group that also supports about 80 orphans in the area.
"Members are struggling to take care of their animals and they now face a bleak future," said Banda.
He said it was sad that a company can collect milk from farmers but fail to pay for it yet they even charge for fuel and allowances for drivers for them to send a tanker to collect milk from farmers.
"They even buy our milk at a very low price of K130 per litre which is not in line with the cost of production," said Banda.
However, MDI managing director Bob Dzombe said the debt was incurred by a different management that was running the company before he took over.
He said he cannot take that responsibility because the people that were running the company were just renting his facilities.
"They had their own operations until I came back into the business. I now have a different arrangement with the bulking groups," said Dzombe.
However, Gondoli Bulking Group record keeper, Chimwemwe Gama, said both the old and new management at MDI had collected 12,899 litres of milk from the group without paying.
"Our records show that under Dzombe's management, MDI collected 8,685 litres of milk from us while the disbanded management collected 4,214 litres. And to us, it is MDI that owes us money, not a particular management," said Gama.
The group has 143 members who collectively own 23 cows.
(Visited 7 times, 7 visits today)
Latest posts by Vanessa Banda
(see all)