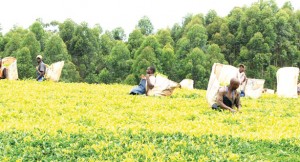 Project to address wages in tea sector
The Tea Association of Malawi (Taml) has embarked on a project aimed at improving wages in the tea industry.
The association hosted a conference in Blantyre for stakeholders under the project which is titled 'Malawi 2020 Tea Revitalization Programme' where the issue of wages in the industry took centre stage.
Among participants at the conference were international buyers of Malawi tea which have been engaged in efforts to map the way forward on how best to tackle the problem of living wages in the industry.
Taml chairman Sangwani Hara said workers and smallholder farmers are the most important stakeholders for the tea estates and the survival of the tea industry depends on the workers and the smallholders.
"Their success is our success and their failure is also our failure. Today, direct labour accounts for nearly 40 percent of the input cost of Malawi tea at the production level," said Hara. He said it was therefore strategic that the issue of the living wage and incomes is the central piece of the Malawi 2020 tea project," said Hara.
Hara said Malawi is the first tea industry worldwide that has signed up to implement the living wage and living conditions undertaking.
"Even in the United Kingdom, the government has just initiated the debate on the implementation of the living wage. So this is a milestone for Malawi and if we succeed, this project can be replicated elsewhere in the world," he said.
He also said the road to achieving the living wage is not going to be easy hence the need for full support of all the tea players in the tea value chain.
Minister of Labour, Henry Mussa, who was guest of honour at the workshop, said poverty reduction through employment entails provision a decent wage that is capable of improving the living standards of workers and their families.
He said wages earned should enable workers to meet the basic needs of their families, including housing, education and healthcare as well as savings that may be required in the event of unexpected occurrences such as job loss.
Mussa observed that profits across the tea industry value chain are not fairly distributed.
"Primary producers and those at the beginning of the value chain are usually the biggest losers," said Mussa.
"It should be the moral duty of everyone across the value chain to ensure fairness in the distribution of the profits. If buyers pay low prices, the tea growers will earn less and therefore pay their workers less as well," said Mussa.
(Visited 7 times, 7 visits today)
Latest posts by Vanessa Banda
(see all)