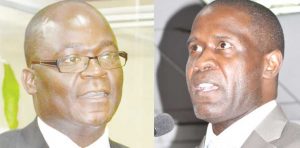 Push for private sector led budget
The Malawi Confederation of Chambers of Commerce and Industry (MCCCI) and the Economics Association of Malawi (Ecama) have asked government to formulate a private sector led budget to spur economic growth.
The call is among proposals the two institutions made to Minister of Finance, Economic Planning and Development Goodall Gondwe during the 2017/2018 pre-budget consultations in Blantyre on Monday.
Making his presentation, MCCCI Chief Executive Officer, Chancellor Kaferapanjira, said adopting a budget framework which is led by the private sector would help to deal with frustrations the industry has had to endure in the past.
According to Kaferapanjira, previous budget lines were premised on wrong assumptions and were ill-focused, leading the nation to fail in its economic development agenda.
"We have never seen a private sector led budget. Either we have been irrelevant or government decides otherwise. But we need a budget that would spur economic growth," he said.
Among the key recommendations made in the presentation include support of various policies and strategies that are already in place but not recognised, including the Buy Malawi Strategy, National Export Strategy, and Industrial Policy.
The Chamber also recommended accelerating the process to establish a development bank within the coming financial year.
"The budget should provide incentives to support initiatives that include long term development financing, special incentives for agriculture, special economic zone, special incentives for foreign exchange generating sectors and special incentives for industries establishment," Kaferapanjira said.
MCCCI also called on the government to address concerns of debt arrears to the private sector which he said now hovers around K 16 billion.
"There is also a need to increase zero tax threshold to K50, 000 and further increase the VAT refund threshold from 1.5 percent to three percent," he said.
Ecama President, Henry Kachaje, echoed the same sentiments observing that previous budgets focused on social services while omitting the private sector growth agenda.
He said the country needs a vibrant private sector to turn around the economy and that this can only be achieved by developing a private sector led budget framework.
Kachaje, however, said the government is in a fix as it does not have a medium development blueprint to anchor the budget framework following expiry of the Millennium Development Goals.
Commenting, Gondwe said Treasury will put into consideration the recommendations made in line with the government's economic development agenda.
(Visited 25 times, 25 visits today)
Latest posts by Vanessa Banda
(see all)