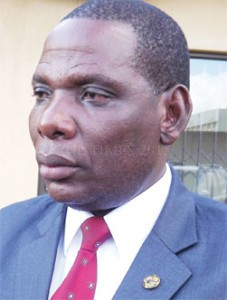 Quality key to industry survival in competition
Quality key to industry survival in competition
The local industry must work on improving quality and modernisation of their products if it is to survive competition under the soon to be launced Tripartite Free-Trade- Area (FTA).
Minister of Industry and Trade, Joseph Mwanamvekha, said that despite the expected challenges on the grand bloc, local companies nee d to produce products and services competitively.
"We have to produce goods that can sell internationally and bring profits to the country," said Mwanamvekha.
Three regional trade blocs; namely the Southern African Development Community (SADC), the Common Market for Eastern and Southern Africa (COMESA) and the East African Community (EAC), are in June this year expected to harmonise their free trade areas and form one grand harmonised market.
The launch will mark the beginning of a free trade area where 26 countries – half of the African Union member countries, covered by the regional communities will start trading their goods and services within the region without tariff and non-tariff barriers.
The Tripartite FTA, once launched in June this year, is expected to bring together 600 million people with a combined domestic product of about US$1 trillion, creating Africa's largest integrated market so far.
Economist Thomas Munthali says Malawian companies have no choice but face reality of coming face to face with regional and continental companies on the local and international trade front.
He said what the country needs to do is to work on its deficiencies in terms of quality products and infrastructure to be able to produce competitive goods on the market.
"It is not about whether Malawi is ready or not but what it should do. Malawi has to mobilise itself and identify its competitive and comparative advantages and focus on those if it is to succeed in the anticipated free trade area," said Munthali.
Latest posts by Vanessa Banda
(see all)