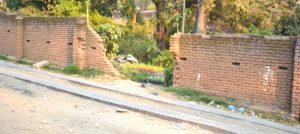 Question marks over councils' revenue use
Discontent best describes the feeling among Malawians mandated by law to pay fees and other rates to councils' operations in various parts of the country.
The bone of contention being that while the councils are committed when collecting the fees when they are due, the money is not being used to spur development.
Snap checks in designated business areas in the country's three major cities found that there is no tangible infrastructure development despite users paying allocated fees.
Business operators in Lilongwe expressed dissatisfaction with the city council over its failure to put in place an efficient refuse collection system. In Blantyre, the major concern is low infrastructure development.
A visit to Mibawa Bus Depot revealed that the depot is in a state of dilapidation with part of the fence crumbling down.
Steven Golden, a minibus driver operating in Blantyre, feels the parking fees they pay are not put to proper use.
"I think the problem is with the authorities. We seem to be paying our money in vain. We need a proper car park for us to appreciate that there is value for our money," he said.
Adjacent to the stage is the Blantyre Market, which also houses a bus depot; and the road there is almost impassable.
Another bus driver, Maxwell Richard, laments lack of commitment by authorities to develop the area.
"I don't think the funds are put to proper use," he said.
But commenting on the management of the parking fees, Blantyre City Council Public Relations Officer, Anthony Kasunda, said the funds collected are just one source of revenue that helps the council deliver municipal services.
"This does not mean the money will be channelled directly to the traffic management system," Kasunda said.
Economic think-tank, the Malawi Economic Justice Network (Mejn), recently conducted an expenditure tracking exercise to check how city councils use the money they collect from business operators.
Its findings unveiled inconsistencies in the management of funds by different councils.
The exercise was done under Mejn's national tax justice platform through which the network has been advocating for progressive revenue and progressive expenditure.
"Under normal circumstances, when our councils are collecting revenues, what we expect as residents or citizens is quality service delivery," Mejn Regional Coordinator for the South, Mike Banda, said.
He said a correlation of the funds paid and development strides would help motivate citizens to pay their dues.
"But, if there's no tangible development happening in our councils, it will be difficult for people to pay the fees," Banda said.
He cited failure to collect and dispose refuse, broken sewer systems, poor road networks, lack of sanitary facilities in public places like markets and depots as being key concerns.
(Visited 16 times, 16 visits today)
Latest posts by Vanessa Banda
(see all)