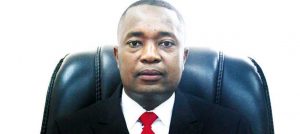 RBM engages Judiciary on forex externalisation
By Sharon Chirwa:
The Reserve Bank of Malawi (RBM) on Wednesday engaged the Judiciary to help fast-track cases of illegal foreign currency externalisation.
RBM Governor, Dalisto Kabambe, said about K400 billion worth of forex has been illegally externalised recently.
Kabambe said a total of 22 cases of forex externalisation have been opened.
"Eight of those cases have been concluded this year and they involved K587 million, which has been recovered. There are 10 other cases that are still in court that involve K47.7 billion.

"The remaining five cases are very big involving about K346 billion. That is about K400 billion and that is a lot of money," Kabambe said.
He said the collaboration with the Judiciary will widen their scope in terms of curbing cases of illegal forex externalisation.
"People are simply trying to take advantage of this country by externalising money. That is why we are collaborating with the Judiciary, as we did with the Malawi Police Service as well as the Financial Intelligence Authority and the Immigration Department. It is the work of this steering committee that is unearthing the extent of this challenge," Kabambe said.
Chief Justice, Andrew Nyirenda, said illegal externalisation of foreign currency can bring any country to its knees.
"It is understandable that RBM has made this plea.

"It is only proper that we as the judiciary are conscious about these cases and we do our part in resolving these cases with speed," he said.
Nyirenda also added that appropriate measures needed to be meted out as penalties that would serve as deterrents.
During the meeting, RBM also urged judges to help the central bank in curbing the influx of counterfeit currency.
"When it happens on a larger scale, it erodes the value of the currency, fuels inflation, reduces acceptance of paper money and both local and the international community players lose confidence in that currency, ultimately negatively affecting the entire economy.

"It is paramount, therefore, that any country jealously safeguards its currency at all cost and at all times. Malawi is therefore not an exception," he said.
Kabambe also urged the Judiciary to help in sensitising Malawians to handle money with care, saying it has cost RBM K10.5 billion to replace damaged currency this year.
"K20, K50 and K100 notes are the most affected in that respect as they are used for offerings at celebratory functions and are thus prone to damage as people step on them or fold them," Kabambe said.
Latest posts by Vanessa Banda
(see all)