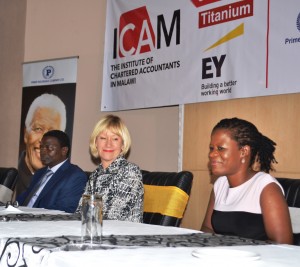 Reduce spending, World Bank tells government
The World Bank has asked the Malawi government to reduce spending as one way of addressing the economic challenges currently prevailing in the country.
Speaking when she officially opened the 2015 Institute of Chartered Accountants (ICAM) Lakeshore Conference in Mangochi on Thursday evening, World Bank country manager for Malawi Laura Kullenberg said the current instability in the Malawi economy is threatening growth and improved performance of the economy.
"Malawi is facing a large fiscal deficit, persistently high inflation, unstable exchange rates and high lending rates which continue to threaten growth and improved performance of the economy," said Kullenberg.
She said strong macro-economic management is key to transforming economic opportunities.
"The government needs to contain spending and one way to do so is to get as much value for its money as possible, squeezing as much efficiency and transparency out of the system as there is to squeeze," said Kullenberg.
She said government has to clean up the payroll, get ghost workers off the books, follow up on audits and hold officers that overspend or don't discharge their functions accountable as one way of addressing the challenges.
Kullenberg said with the right policies and investments, Malawi can grow economically and start sharing in the success stories that we are seeing all across the African continent.
"This means, first and foremost, getting the basics right. Restoring fiscal discipline to bring deficits and borrowing under control and bring down inflation," said.
Government should also rebuild public financial management and improving public service standards to get the most out of public spending.
Having a strong compact between government and citizens, maintaining a long term horizon and transforming "expensive entitlement programmes" such as the Farm Input Subsidy Programme to ensure they achieve their original purpose and reach the people they were meant to reach in the most efficient way possible, are also key steps to Malawi's transformation.
"The poor should not be left behind or shortchanged," said Kullenberg.
"Getting systems right and following the rules does not cost a lot of money.
As the saying goes, problems that are made by man can also be solved by men and women.Government has made a start to this end and staying the course is critical," she said.
She said accountants and financial management specialists can help in bringing professionalism and ethical behaviour more strongly into both in the private and public sector.
"I take this opportunity to encourage Icam to continue and even step up your efforts of collaborating with the government in this arena," said Kullenberg.
Icam president Chiwemi Chihana believes Malawi can achieve development using domestic resource.
"Strengthening and broadening local resources followed by prudent fiscal management can enable us stand on our own," said Chihana.
"It's about having home grown solutions to improve and increase intra-regional trade partnerships. Focus should be on better negotiations for our contracts on agricultural produce and natural resources exploitation and curbing illicit financial flows," he said.
He said a lot of revenue is being lost through mispricing and transfer pricing, citing Malawi's tobacco trading where he said growers are being paid US$1.77 per kilogramme of the leaf while in Zimbabwe the same was being sold at US$5.
The three day Icam conference is being held under the theme: "What are the Opportunities for transforming Malawi's economic fortunes."
(Visited 43 times, 43 visits today)
Latest posts by Vanessa Banda
(see all)