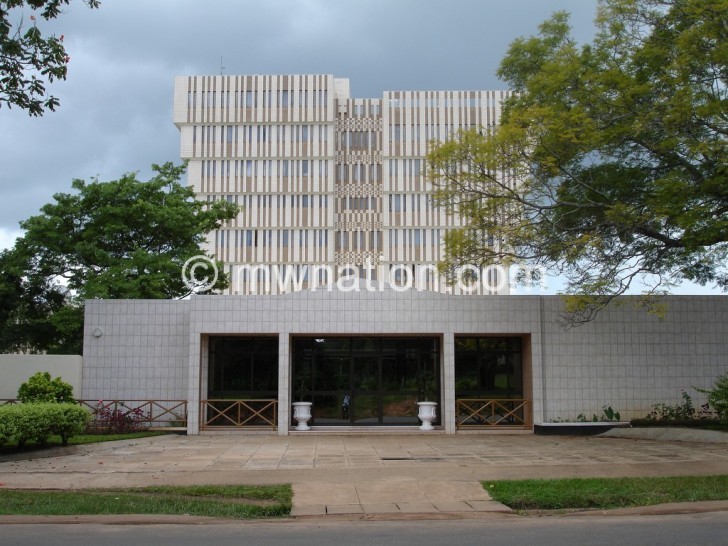 Remittances to Malawi, others rise, shows report
The flow of remittances to low and middle-income countries, including Malawi have increased by 4.9 percent to $626 billion (about K750 trillion) in 2022, published World Bank data shows.
This is a rise from $595 million (about K618 billion) remittances in 2021, according to the latest World Bank Migration and Development Brief.
RBM headquarters in Lilongwe
The development comes against the backdrop of a Reserve Bank of Malawi report released earlier this year which showed that remittances to Malawi are on the rise, increasing to $97 million (about K100 billion) between January to April this year.
During the same period in 2021, remittances were recorded at $88 million (about K91 billion).
In a statement accompanying the latest report, World Bank's Global Knowledge Partnership on Migration and Development head of migration and remittances Dilip Ratha observed that remittance flows to developing countries were, among others, shaped by migrants' determination to help their families back home.
He said: "Their ability to send money home was supported by a gradual reopening of various sectors in host country economies [following pandemic-induced closures and travel disruptions] which improved their incomes and employment situations.
"Rising prices, on the other hand, adversely affected migrants' real incomes and remittances."
Ratha said currency exchange rates affected remittance flows in many countries that experienced scarcity of foreign exchange and multiple exchange rates.
According to the report, remittance inflows reached record levels in 2021 at a monthly average of $25 million (about K26 billion).
However, Malawi is also recording significant remittance inflow for the first time, with a monthly average of $13 million (about K13.4 billion) in 2021.
This trend continued in the first four months of 2022, with monthly inflows of $21 million (about K22 billion) being counteracted by $16 million (about K16.5 billion) in outflows.
Commenting on the report, Centre for Social Concern Economic Governance programme officer Benard Mphepo urged government to support migrants and their families through the adoption of laws and regulations to facilitate receiving of remittances from Malawians working abroad.
He said remittances increase incomes of households in the developing world  "particularly in rural areas where they count the most and provide further opportunities towards rural transformation".
The World Bank said remittances are a vital source of household income for low and middle-income countries as they alleviate poverty and improve  people's livelihoods.
A remittance is a non-commercial transfer of money by a member of a diaspora community to their home country.
Let us know what you think of this article and remember to add us on our facebook and follow us on our twitter. Come back daily for more Malawi business news.
Quick Links: Download Business eBooks | Ten Signs You Are An Entrepreneur | What is a Managing Director?
Latest posts by Vanessa Banda
(see all)