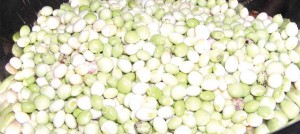 Report shows export cracks
The African Institute of Corporate Citizenship (AICC), a non-governmental organisation established to promote business development, has identified poor grain quality and high transaction costs as some of the barriers hampering Malawi's potential to capitalise on international trade opportunities.
In its Outlook for Pigeon Peas for April to September, 2016, AICC notes for example that in 2015, Malawi only managed to export 49,673 tonnes of pigeon peas, representing one percent of Malawi's supply of pigeon peas to the world demand.
AICC said poor enforcement of public standards at domestic level have overtime affected the quality of grain that Malawi exports as well as high transaction costs prevalent in Malawi as compared to other countries in the region.
"Tanzania, the second largest Pigeon Peas producer in Africa, surpasses Malawi in international trade. Pigeon Peas was the major export of the legume crops within the 2014/15. However, this represented one percent of Malawi's supply of pigeon peas to the world demand. This reveals Malawi's minimal participation in international trade. High transaction costs also hinder export opportunities, for example; the cost of exporting a 20-foot container of pigeon peas to Mumbai in India is $1,800 for Malawi compared to an average of $800 for Tanzania, and $500 for Kenya," AICC said in the report.
AICC said subject to how quick Malawi can move to eliminate the challenges, the risk is high for the country to lose its market share to competing countries such as Mozambique and Tanzania.
"Malawi stands to lose market share in the international pigeon peas market due to poor quality issues reported by the Commodity Exchanges, high transactions that have been earlier alluded to and slow transition into the structured market system for grain legumes including pigeon peas," part of the report reads.
According to AICC, Malawi needs to design market arrangements that reduce transaction costs for private sector traders and exporters. It further says in order to ensure continued supply of pigeon peas to major exporters, pigeon peas quality should be emphasised in the formal trade portals.
"This is in light of intense discussions on structured market systems in Malawi leading to the development of the export directive, increase in quality consumers and buyers in India and the continued migration of pigeon peas into the central and northern region. This will probably result in increased investment in quality control systems by processors and commodity exchanges," AICC said.
AICC, however, expects prices for pigeon peas to rise to more than $1.31 per kilogramme on the back of a depreciating kwacha and owing to relatively low foreign reserves.
(Visited 8 times, 8 visits today)
Latest posts by Vanessa Banda
(see all)