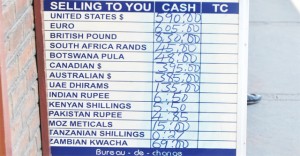 Reserve Bank backtracks on forex directive
THE Reserve Bank of Malawi (RBM) has backtracked on its earlier directive for banks and other foreign exchange dealers to maintain the spread between the buying and selling rates of forex at just K5.00.
The dealers have now been allowed to increase the spread to 2.5 percent and the gap is now averaging K13.00.
RBM spokesperson, Mbane Ngwira, confirmed in an interview yesterday that the central bank has adjusted the earlier directive, saying this was a result of discussions with stakeholders on the foreign exchange market.
"The new spread gives some room for negotiations [between buyers and sellers of forex] and this is particularly critical for interbank trading [of forex]," said Ngwira. He said with a spread of just K5.00, the interbank forex market was literally killed.
At the onset of the current on-going depreciation of the kwacha in July, RBM reacted with a directive that spreads between buying and selling foreign exchange should not exceed K5 for all trading currencies at any point The central bank also directed that opening exchange rates should be based on the previous day's average market closing prices plus a margin of not more than 0.25 percent.
It further directed that intraday changes can be made, provided a deal of minimum US$250,000 has been executed but must not exceed a margin of 0.5 percent and that overall forex risk exposure by dealers should be reduced from 35 percent to 10 percent of the bank's core capital.
RBM also directed that calculation of Liquidity Reserve Requirement for foreign currency deposit should be converted to Malawi kwacha.
Meanwhile, the Malawi kwacha continues to fall against major trading currencies and was yesterday trading at an average of K590 to the United States dollar on the formal market.
(Visited 4 times, 4 visits today)
Latest posts by Vanessa Banda
(see all)