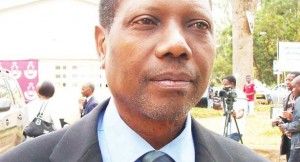 'Reserve Bank of Malawi cautious on bank rate'
Economists have said the Reserve Bank of Malawi (RBM) is being "too cautious" to effect another reduction on the policy rate hence its decision to maintain the rate at 18 percent.
RBM Monetary Policy Committee (MPC) met recently and in its policy brief indicated that the central bank is monitoring, with keen interest, the market trends in view of the falling inflation, which hit single digit in August to 9.3 percent.
In its statement issued on Thursday, the MPC said this policy stance will help to consolidate the gains achieved so far in reducing inflation rate to ensure that it remains in single digit for a longer period to guarantee sustainably low interest rates.
Professor of economics at Chancellor College, Ben Kalua, said it was anticipated that the Reserve Bank would maintain the policy rate, while saying it is likely that the inflationary trends may take a sharp turn.
"The central bank is quite cautious on changing the bank rate. This is because of the volatility of inflation rate and its dependence on food supply.
"We, therefore, expect things to be changing soon and then we will find out that the inflation rate will be going up and the Central Bank will not want to be revising the bank rate quickly," Kalua said.
Maize availability in Malawi traditionally dictates the pace of inflation as the Consumer Price Index (CPI) is heavily dependent on it.
The maize situation has remained stable this year following a bumper yield with the country reported to have produced about 3.2 million metric tonnes.
In a separate interview, Catholic University Dean of Social Science, Gilbert Kachamba, said while the market was yet to react to the recent drop in inflation, the trend might reverse in the coming months.
"This low inflation will not be sustained for a longer time. We don't know what may happen in the coming months, hence, the argument that this level may not be sustained going ahead," Kachamba said.
The last time that the country reported single digit inflation is in 2011 when inflation went down to 9.8 percent.
RBM has in the past ten months cut its policy rate thrice.
In November 2016, RBM slashed the policy rate from 27 to 24 percent. Another cut of 200 basis points was effected in March 2017 from 24 percent to 22 percent before cutting it further to the current 18 percent in July 2017.
(Visited 1 times, 1 visits today)
Latest posts by Vanessa Banda
(see all)