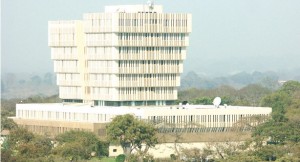 Reserve Bank of Malawi's 2014 surplus up
The Reserve Bank of Malawi (RBM) has announced strong financial performance for the year 2014 during which it registered an annual operating surplus of K24.3 billion.
This follows a loss of about K1.26 billion the central bank registered in the previous year which was attributed to foreign exchange losses.
According to an RBM annual report released recently, the central bank's total comprehensive income increased to K31.4 billion in the year under review from a loss of K892 million.
The report, signed by RBM governor Charles Chuka and chairperson of the central bank's Audit Committee Betty Mahuka, further says total assets of the group increased by K22.969 billion during the year while total assets and liabilities in the year under review jumped to K500.9 billion from about K478 billion the previous year.
It states that major increases were in balances with foreign banks at K97.9 billion and property and equipment at K9.2 billion.
The increases were, however, partly consumed by a decrease in treasury bills and advances to Malawi government.
Major increases in the liabilities were in banker's deposits and notes and coins in circulation while there were decreases in government deposits, other deposits and other open market operation instruments, reads the report.
The central bank's revenue was largely from interest and commissions it received from the financial institutions, according to the annual report.
However, the bank had mixed results on foreign and domestic assets as its total foreign assets increased to K272.4 billion in the year under review from K172.5 billion while domestic assets decreased to K228.5 billion from K305.4 billion.
The RBM's financial results include that of the central bank and the Export Development Bank (EDF), which is wholly owned by the bank.
(Visited 21 times, 21 visits today)
Latest posts by Vanessa Banda
(see all)