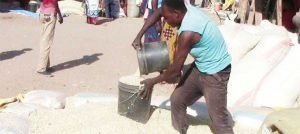 Rising maize prices to pressure inflation
The country's maize prices have started pickingup, a development that is likely to start exerting pressure on inflation.
A snap survey conducted in selected trading centres in the Southern Region found that maize prices have jumped from K4,000 for a 50 kilogramme (kg) bag of maize in July to around K5,500.
Vendors have attributed the increase in prices to new market development such as the coming in of the Agricultural Development and Marketing Corporation (Admarc) and National Food Reserve Agency (NFRA) to buy the grain.
The two state agencies are said to be buying the grain at an average price of K160 per kg or K8,000 per 50 kg bag.
Maggie Chirwa, a vendor at Nancholi Market in Blantyre, said growers now have alternative lucrative markets to sell their commodity.
"The decision by Admarc and NFRA has heightened pressure on the commodity as there is now increased competition among us, vendors.
"Some vendors are buying the commodity to sell to these institutions while others, like me, are buying to sell to individuals in town,"Chirwa said.
Jimmy Chingagwe, a vendor at Bvumbwe Market, said though the country still has plenty of grain, growers are demanding more for the commodity.
"Unlike soon after harvest, we now have to cough more to acquire the commodity from growers," Chingagwe said.
Improved food availability has over the past months seen a sharp fall in prices, a development which has helped pull down inflation.
Food contributes about 52 percent to the country's Consumer Price Index and any increase or decrease in its pricing has the possibility to swing inflation up or down.
The country's inflation has hit single digit recorded at 9.3 percent in August 2017.Centre for Social Concern (CfSC) recently predicted that maize prices would rise as the country heads towards the lean period.
CfSC Economic Governance Programmes Officer, Lucky Mfungwe, said the rock bottom food prices, some as low as K35 per kilogram, that prevailed in some parts of Dowa and Salima districts were a robbery to the farmers and the economy.
(Visited 1 times, 1 visits today)
Latest posts by Vanessa Banda
(see all)