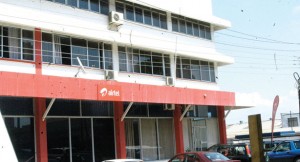 Rural centre gets Airtel 3G upgrade
Mobile phone service provider Airtel Malawi on Sunday unveiled its latest 3G network upgrade at Kabwazi Trading Centre in Dedza as part of its extensive advancements across the country.
The new upgrade is part of 400 3G transmitting spots which the service provider has in different parts of the country. Airtel Malawi also has 556 2G spots which mostly offer voice information transmission.
Speaking during the unveiling ceremony which was spiced up by traditional dances and a football match, Airtel Malawi Zonal Business Manager Misheck Kavuta said the mobile service provider believes that connectivity is the future.
"The people of Dedza, specifically Kabwazi and surrounding areas, can now experience amazing mobile multimedia applications which they couldn't enjoy previously. The 3G networks are desirable because of their extremely fast data transmission," said Kavuta.
According to Airtel, the conversion of Kabwazi into a 3G zone adds the total number to over 200 sites which have been upgraded from 2G to 3G since the start of the exercise last year.
A statement from the mobile service provider states that the brand has invested heavily in mobile network infrastructure development with the aim of providing the best for its subscribers "both in quality and quantity".
Chairperson of Dedza District Council, Auzious Chidobvu, who presided over the unveiling of the 3G upgrade a t Kabwazi Trading Centre, commended Airtel for the development, saying it will allow its users easy access to the internet.
"The lives of people here will be changed because of the commissioning of this 3G network because previously, we even had general network problems. This is no longer the case now after the upgrading of the network," said Chidobvu.
3G technology features data transfer at a higher rate of megabits per second apart from facilitating faster web browsing and file transfers.
(Visited 9 times, 9 visits today)
Latest posts by Vanessa Banda
(see all)