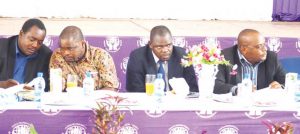 Sacco members to share K16 million
Members of the Mudi Savings and Credit Cooperative (Sacco) will this year share K16.1 million dividend after the Sacco made a profit of K26.9 million.
This represents a 22 percent profit jump from K22.8 million made in 2015.
The dividend was proposed by the board of directors and agreed upon by the members on Saturday during the Sacco's annual general meeting (AGM) held in Blantyre.
"This is a landmark to Mudi Sacco and our members. We pledge to continue giving out the dividends to our members," said Mudi Sacco Vice Chairperson, Blair Chitimbe.
Chitimbe said the surplus will be reinvested in the business in fulfillment of the Cooperative Act.
"The growth in the profits has been seen through loans that most of the members took. Again, advertisement also pushed us to the success we are celebrating today," he said.
Currently, Mudi Sacco has 4,179 members.
During the AGM, the Sacco also honoured some members for their impressive performance.
Ephraim Munthali of Nations Publications Limited became the best saving member of the Sacco.
The members re-elected Martha Zilambalala of Agma Holdings Limited and John Maluwa to be supervising Mudi Sacco branch in Kasinthula, Chikwawa.
Later, the directors retained Zadziko Mankhambo and Chitimbe as Chairperson and Vice Chairperson respectively.
Representing Malawi Union of Savings and Credit Cooperatives (Muscco), Fumbani Nyangulu, said the Sacco should make more Malawians understand the essence of Sacco's.
He added that the Sacco should make sure members enjoy the benefits.
Muscco is an umbrella body for all the Saccos in the country and it is currently managing 42 Saccos, 32 of which have been licensed by the Reserve Bank of Malawi.
(Visited 23 times, 23 visits today)
Latest posts by Vanessa Banda
(see all)