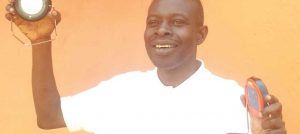 Seeking answers to energy challenges
Power outages have now become a norm as the country continues to rely on hydro power to generate electricity. Over the years, water levels in Lake Malawi have continued to go down, partly because of changes in climatic patterns, thereby affecting flow in the Shire River where the country taps power to generate electricity. In this interview, GRACE THIPA speaks to the Director of Solar Traders Association, CHISAMBAZI NYIRENDA on what alternatives the country can adopt
Power challenges in Malawi have now escalated into a crisis. Where do you think we are getting it wrong as a country?
The genesis of the current power, electricity or energy crisis is argely attributed to lack of foresight and planning. For some inexplicable reason, as a country, our technocrats and policymakers have time and again failed to match projected energy demand to requisite investment in power generation and distribution infrastructure This projected demand, as we all know, is a function of projected industry and population growth. Our technocrats and policymakers have had sight of projected growth statistics some years back and yet have failed to respond appropriately, hence the situation we find ourselves in; where glaring gaps exist between demand and supply of energy. This has impacted negatively on the economy's ability to grow, let alone diversify from an agriculture-dominatèd economy to an industrialised economy with, say, mining and value-addition and services as major contributors.
For a long time, Malawi has been relying on hydro power, do you think we have the capacity to diversify power sources? What would be the best model to adopt, in your view?
Yes, the other problem has been our almost total dependence on one source of power generation, hydro, along one river, the Shire with six hydro power stations in one geographical area. The only other major hydro investment is on Wovwe river up-north which produces less than five megawatts out of a total installed capacity of 350 megawatts (MW). We have been too slow to diversify into other viable sites or sources of generating power. It is noteworthy that a mini-hydro project is now successfully running under the Mulanje Electricity Generating Authority(Mega) and another project is underway at Usingini, Nkhatabay.
In terms of the optimal clean model, a diversified hydro base supported by a robust and geographcally wide spread portfolio mix of solar, mini-hydro, geothermal and wind generated power would, in our view, be most ideal. However, we may be forced to adopt "dirty" power from coal-fired plants like the planned 300MW project at Kam'mwamba as a temporary measure to support the base load.
The Electricity Supply Corporation of Malawi (Escom) was successfully unbundled and there have been various interventions to mitigate against prolonged power outages. Do you think the process was worthwhile, or its too early to start seeing the fruits?
The unbundling of Escom and liberalisation of the power generation sector was long overdue. And definitely worthwhile. It is our hope that issues of feed-in tariffs and net-metering processes and protocols for commercial large scale Independent Power Producers (IPPs) using solar farms and mini-grids and other producers that generate excess power via on-site industrial, institutional and residential installations will be streamlined and publicised soonest to assist in alleviating the energy crisis. The IPP Framework and Malawi Grid Code have already been finalised as part of the MCA-funded unbundling and liberalisation of the enegry sector. After completion of the MCA Malawi Compact funding this year, we would expect a revitalised energy sector with a diversified mix of energy sources from, most likely, end-2018 onwards. Meanwhile, we should brace ourselves for continued intermittent power supply despite the stop-gap measures involving use of diesel-powered generators.
Any examples on the continent we can learn from?
South Africa and Zambia are good examples of countries in the region that are implementing a mixed energy generation portfolio that is increasingly tending towards renewables. They have embraced and rolled out solar projects with proven benefits across their respective economies. Rural communities have benefitted from the building of solar plants with manufacturing industries coming to stream, especially those that produce spare parts and components.
You talked about the private sector also taking a leading role in finding answers to power problems that have the country at ransom. How best do you think this can be done?
The private sector must innovate and implement commercially viable, profitable and sustainable power generation projects, businesses and initiatives across the whole spectrum of the solar industry.
On large scale solar farm and mini-grid projects, joint ventures and public/private partnerships are a way forward given the massive investment required for such endeavours. Banks and financial institutions also need to play a role by offering affordable, long-term access to capital and, for the retail products end, structure appropriate supplier/ business and consumer credit financing packages.
You are the Executive Director of Solar Trade Association. Tell us what the organisation does and the motivation behind its establishment. Is this association membership based? And how are your operations like?
Solar Trade Association (STA) is a not-for-profit membership-based organisation that specifically addresses issues pertaining to the solar industry. The upcoming solar revolution in Malawi requires a specialised solar association to help tosupport, organise and champion the industry and to lobby and more importantly to advocate for progressive and conducive policies linked to appropriate strategies with sight to projected growth in business opportunities, entry of new local and foreign players and investors, the need to adopt quality products and standards, ethical behaviour and best practice, to keep abreast with advancements in the technology whilst promoting widespread use of solar technology and products. Hence, Solar Trade Association is and will be "The Voice of the Solar Industry."
Our Secretariat is located at Anamwino House, City Centre, Lilongwe and we plan to set up regional offices in Blantyre and Mzuzu in due course.
What interventions have you put in place as Solar Traders Association that you can point to as milestones?
Solar Trade Association was only registered in August, 2017. So, currently we are engaging with a number of industry players, government, NGOs, academic and technical institutions including Teveta, donor agencies, industry and corporates to facilitate synergistic working arrangements and modalities for the most effective way to promote speedy uptake of solar and to give solar power to the people.
Where do you see yourself in the next five to ten years? What do you want to accomplish?
Solar Trade Association has a vision to facilitate and enable access to solar power for all. This is our overarching raison d'etre. As part of this vision, we are on a mission to transform the solar industry in Malawi by promoting solar businesses, innovations and initiatives and ensuring adherence to quality standards, ethics and best practice in order to build a reliable and robust industry to facilitate and support speedy uptake of solar systems, products and services.
Solar Trade Association will be a financially independent, self-sustaining One-Stop Solar Investment Facilitation Centre in Malawi and also aim to be the regional solar hub in Sadc. To this end, we plan to have a revolutionary mega annual event dubbed "Solar Power Malawi" (International Convention and Trade Fair) that will be a "Must-Attend" for major local, international and regional solar players.
Solar Trade Association also plans to establish a unique, first of its kind Solar Energy Technology Institute (SETI) which will house a state-of-the-art solar information and innovation hub to be known as the "S-Hub." This will be a Centre of Innovation and Excellence in Solar Energy Technology and will be an internationally recognised facility for, among others; Product and component testing for quality; Training, consultancy and advisory services; Research, design and development of appropriate products and solutions for Malawi and Africa, among others.
Additional comments
As Solar Trade Association, some of our immediate concerns are; Need for strict enforcement of licensing/ accreditation of all solar industry players by Malawi Energy Regulatory Authority; Membership of a recognised appropriate renewabes industry bodylike Solar Trade Association to be a prerequisite to trading or engaging in solar industry or products as a means of self-regulation by the industry; Adoption of international quality standards for solar products to be imported and used in Malawi and enforcement by Malawi Bureau of Standards and other relevant stakeholders to ensure that only high quality products are imported into Malawi; Removal of Value Added Tax, initially on solar home systems and small Pico lighting products before consideration of a broader extension to facilate affordable universal access so that we make "Solar Power for All" a reality.
(Visited 9 times, 9 visits today)
Latest posts by Vanessa Banda
(see all)