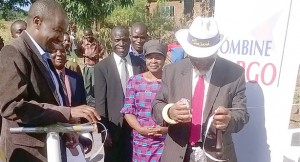 Senior Chief Kapeni hails Combine Cargo
Senior Chief Kapeni of Blantyre on Sunday praised Combine Cargo Limited for initiating a village water project in his area, along the road to Mpemba.
The Msusa Water Project, he said, would help curb diarrheal diseases that have been rampant around the area due to scarcity of safe and portable water.
"Water is life and he who helps out on water problems is great and deserve our praise. The problems of water people faced around Msusa village is well known and so are the risks of diarrheal diseases that we encountered here, it is for this reason that I wholeheartedly thank Mr. Edward Kalua, Managing Director of Combine Cargo for igniting this initiative," said Senior Traditional Authority Kapeni.
The water project includes the construction of a borehole and instilling issues of water and hygiene in the respective area, according to Senior Group Village Head Kajombo; whose catchment area hosts the project.
Kapeni, however, appealed to the communities around the area to properly manage the facility as well as have a sense of ownership for the project.
"This project is unique and please take it wholly as yours and have a sense of ownership; I also appeal to those that have a chronic love of drinking water from
unsafe sources to utilise this facility – it is only ideal that you introduced a fund for maintenance of the borehole facility and hence I appeal to all to contribute and also to those entrusted in running the project to be transparent," he said.
Kalua said he appealed to the board of his company to come to the rescue of the villagers around Msusa with the water project after noting how people were drinking water from unsafe sources – in this case a swamp like hole, which at one point drowned an epileptic child.
"I thank our board for coming in to our rescue with this facility, the borehole only did cost over K2.5 million but prior to that we also have paid an upfront K1 million to another contractor who failed to tap water," he said, adding Combine Cargo was also involved in other social responsibility obligations such as education bursaries and others.
He appealed to other organisations to come in to assist in community projects, saying if many were into such initiatives, Malawi would change for the better.
Combine Cargo's Board Chair James Masumbu appealed to the beneficiaries to make good use of the facility and avoid vandalising and misuse at all cost.
"And, please, don't draw water from zithaphwi [swamps and unsafe sources], make use of these facilities and save yourself from waterborne diseases," he said.
Latest posts by Vanessa Banda
(see all)