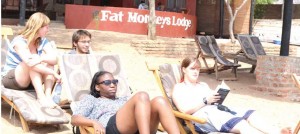 September designated Tourism Month
Government has designated the month of September as the National Tourism Month to complement efforts seeking to make tourism one of the key sectors to drive the economy.
Minister of Industry, Trade and Tourism, Joseph Mwanamvekha, launched the Tourism month amid government's high expectations to increase the contribution of the tourism sector to Malawi's Gross Domestic Product (GDP) from eight to 13 percent by the year 2018.
Among strategies to achieve the targeted growth, government plans to advertise Malawi's tourist attractions through both local and international media.
The Department of Tourism plans to hold a Tourism Street Carnival on September 17 to give a platform to the general public to sample the various products and services being offered by the tourism sector and its supporting sectors.
According to a statement from the Department, the carnival also aims at encouraging local travel, in line with the Buy Malawi Strategy.
The event will start with a Street Parade, led by the Malawi Prison Brass Band, from the Clock Tower in Blantyre, through Haile Seilaisse Road, then Victoria Avenue and finally into Henderson and Hannover streets.
The event has been organised by the Department of Tourism in conjunction with Sunbird Hotels and Resorts, Malawi Institute of Tourism, Travel Centre, African Styles and Tours, Flame Adventure Tours and Angaliba TV.
Later on September 27, Malawi is expected to join United Nations World Tourism Organisation member states in commemorating the World Tourism Day.
As of 2014, Malawi only received about 800,000 tourists, 20 percent of which came into the country for leisure or adventure with the rest coming for family and business visits. The Tourism Department is targeting to raise the figure to 1.5 million.
(Visited 1 times, 1 visits today)
Latest posts by Vanessa Banda
(see all)