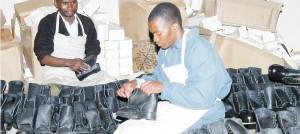 Smedi pushing reforms to boost leather industry
The Small and Medium Enterprises Development Institute (Smedi) will be launching the Leather Industries Association of Malawi (Liama) to promote leather production in the country.
The Association is being set up to facilitate market linkages between the micro, small and medium enterprises (MSMEs) in the leather sector.
Smedi Publicist, Mian Mpesi, said according to the Leather Needs Assessment Final Report that was conducted by Smedi in 2015, it was discovered that Malawi's leather value chain has potential to significantly contribute to Malawi's economic growth and socio-economic prosperity.
She said this can be done through expansion of the export base, increases in job opportunities and income generation for the small and medium enterprises, among others.
"It is estimated that based on its animal resource base of goats, cattle and sheep, the leather value chain has the potential of grossing $102 million. However, this is only possible if all hides and skins produced in Malawi are processed into finished goods.
"At full potential optimisation, the value chain could contribute 3.9 percent to Malawi's Gross Domestic Product (GDP)," Mpesi said.
She further said the top most hindrance hampering the realisation of the sector's full potential is lack of value addition.
"Like other agro-based products, leather in Malawi is exported in its raw state to neighbouring countries and sometimes, this involves using informal means which impact negatively on the country's efforts of revenue generation and collection," she said.
Mpesi said the re-organisation of the leather sector will help the government and other stakeholders to reach out to players in the value chain and offer assistance and interventions accordingly.
(Visited 14 times, 14 visits today)
Latest posts by Vanessa Banda
(see all)