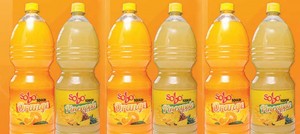 Sobo stockout raises eyebrows
Sobo squash, a product of Carlsberg Malawi, has been conspicuously missing on the market, creating speculation among consumers that Carlsberg has suspended production following the change of shareholding at the company.
Carlsberg Breweries AS of Copenhagen sold off its 59.48 percent stakes in Carlsberg Malawi to Castel after Press Corporation Limited, which owns 39.65 percent in Carlsberg Malawi, failed to exercise pre-emptive rights to buy Carlsberg Breweries shares.
Spot checks conducted in Blantyre showed that the product has been out of stock for the past two weeks. The traders we spoke to claimed they had received no official communication from Carlsberg explaining the stock out but said the absence of the product has affected their businesses.
"I am surprised that I have been coming for the past week but I have not found the product. Unfortunately, there has been no communication from the company and this is creating uncertainty," said a Mrs Phiri who owns a retail shop in Blantyre's central business district.
But Carlsberg Malawi has dismissed the speculations indicating that the company was conducting maintenance works to its production plant which affected production.
Carlsberg Corporate Communications Officer, Towela Munthali, said the maintenance works were necessary to ensure service quality.
"However, it did affect production plans and the availability of Sobo Squash on the market," said Munthali.
She said production of the squash has since resumed.
But consumer rights activist and Executive Director of Consumers Association of Malawi (Cama), John Kapito, has faulted Carlsberg for failing to plan its production accusing Carlsberg of taking advantage of its strong position on the market to disadvantage consumers.
"If indeed they knew that they have machine maintenance, they should have worked out a plan to sustain the supply than let the customer suffer," said Kapito.
(Visited 69 times, 69 visits today)
Latest posts by Vanessa Banda
(see all)