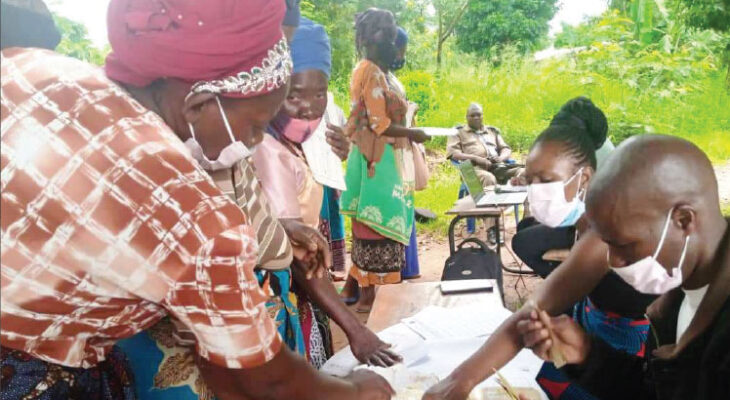 Social cash transfer funding to jump 15%
Beneficiaries of social cash transfer are expected to reap more benefits from the initiative following plans by Malawi Government to increase funding by 15 percent in the next five years.
The Ministry of Gender, Community Development and Social Welfare, which spearheads the Social Cash Transfer Programme, said this will assist to push some Malawians out of poverty by providing consumption support to the poorest and most vulnerable households
The programme locally known as Mtukula Pakhomo is a government unconditional cash transfer scheme which seeks to reduce poverty and vulnerability as well as enhancing resilience of ultra-poor and labour-constrained households through payment of a minimum of K8 500 per month regular cash transfers.
Social cash transfer beneficiaries receive their monthly allocation
Treasury funds approximately 5.5 percent of total programme costs with the remainder financed by development partners.
But under the 2022-2027 Malawi Social Cash Transfer Programme Strategic Plan, government plans to increase funds to reduce poverty, improve health and education service access in communities and boost local economies, thereby improving the lives of beneficiaries and non-beneficiaries.
Speaking in an interview on Tuesday, Minister of Gender, Community Development and Social Welfare Patricia Kaliati said the new strategy aims to address poverty, vulnerability and marginalisation, a global increase in prices of basic commodities and extended periods of extreme weather and climate-related shocks.
She said development of the programme Strategic Plan comes at a time Malawi is fighting poverty and vulnerability in line with Malawi 2063, the country's long-term development plan that to enable Malawi to be an inclusively wealthy and self-reliant nation.
Said Kaliati: "The spirit of the programme Strategic Plan 2022–2027 also resonates with the intentions of the government to increase the coverage for the programme to 15 percent. Further, the strategic plan aligns with government's intention of building a resilient and sustainable social protection system through productivity-enhancing safety nets.
"In the same vein, the Malawi 2063 and the 10-Year Implementation Plan also calls for the scaling up of social protection programmes that are catalytic and transformative in nature leading to resilient communities and enhanced social protection and support for all disadvantaged, marginalised, and vulnerable people."
Malawi Government's financial contribution to the programme totalled K2.25 billion in 2021/22 fiscal year.
Although Treasury has increased funding from K650 million in 2016/17 fiscal year to K2.59 billion this financial year, one of the programme's partners, United Nations Children's Fund (Unicef) said the amount is still not sustainable.
According to the Unicef 2020/21 Social Protection Brief, the need to maintain the sector at the status quo, supporting only the bottom 10 percent of ultra-poor and labour-constrained households across the country with no seasonal and emergency top-ups, would cost approximately K24 billion.
International Labour Organisation social protection technical officer Patience Matandiko is quoted as having observed that it is worrisome that at 90 percent, the majority of the funds for the programme come from donor countries whose economies are also facing various challenges due to Covid-19 and the Russia-Ukraine war.
She said: "From our side, we are promoting that the government should continue progressively increasing domestic financing of social protection to ensure that there is assured sustainability of social protection to a certain extent.
"Social protection contributed to human development. Government should continue investing to realise sound comprehensive systems."
The World Bank has also encouraged social cash transfers, saying government should cushion the vulnerable with social protection.
World Bank's country manager Hugh Riddell is on record as having said that while a more diverse economy is ideal as it will create resilience, in the short-term targeted and sustainable safety nets can protect household assets through difficult times.
He observed that price rises are hurting the poorest, but they reflect global factors and many countries struggle to respond.
On the imperative to protect the poor in the face of severe fiscal constraints, Riddell said this calls for more efficient service delivery.
Let us know what you think of this article and remember to add us on our facebook and follow us on our twitter. Come back daily for more Malawi business news.
Quick Links: Download Business eBooks | Ten Signs You Are An Entrepreneur | What is a Managing Director?
Latest posts by Vanessa Banda
(see all)