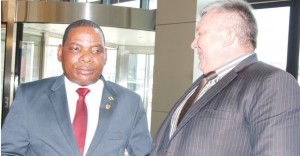 Solar energy investor awaits land allocation
ATLAS Energy, the company that plans to start generating electricity from solar in the country, says it is yet to get government permission and land allocation for the proposed project.
The Ministry of Natural Resources, Energy and Mining says, however, it will soon conclude a deal with Atlas Energy for the project.
Atlas Energy chairman, Konrad Buckle, said the company is ready to roll out the project once it gets the go ahead and land from the government.
The company plans to invest US$80 million in the project. Minister of Natural Resources, Energy and Mining, Bright Msaka on Tuesday said before entering into an agreement with independent power producers, the government has a responsibility to make sure that it is in the best interest of the country.
"Among other things, we must remain conscious to the fact that Escom will eventually have to sell the power produced to the consumers at a tariff that enables the consumers to afford the electricity," said Msaka.
He said the government also understands that the investors need to make some profits and that while Malawi is in dire need of power, it is important to balance up the two.
"We certainly must do our best to balance between attracting investments that are profitable to the investors on one hand and securing power that will be affordable to the consumers on the other hand," he said.
Msaka said government believes that there is good progress on the proposed Atlas Energy solar power project.
(Visited 31 times, 31 visits today)
Latest posts by Vanessa Banda
(see all)