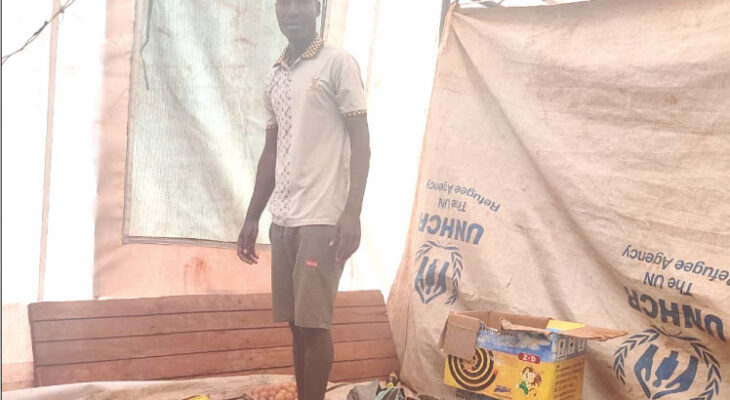 Some refugees decry businesses disruption
Refugees relocated to Dzaleka Refugee Camp in Dowa District have expressed concern that they could lose their businesses after a government sweeping exercise forced them to leave their shops.
In the past two weeks, law enforcement agencies, including the Malawi Police Service, Department of Immigration and Citizenship Services and Malawi Defence Force, conducted a sweeping exercise targeting immigrants who were conducting businesses in the country's major cities without government permits.
Bizimana Siriyaka, a 35 year-old Burundian who was operating a shop in Lilongwe, said he was concerned about the safety of the merchandise he left in his shop in Area 24 and the potential loss of business.
He said: "My shop is closed for now. I am not even sure if the merchandise I had in that shop is safe.
Said he lost his business: Ngendakumano
"I had products worth about K1 million in that shop. My phone which was in that shop when I was captured was switched off. I fear that some of the things might have been stolen."
Siriyaka urged government to relax some of the restrictions that prevent refugees from owning property and/or running businesses to ensure that people seeking asylum in the country operate within the law.
"Before we moved here, we heard stories of how warm and friendly the people of Malawi are. But when we got here, we found the environment hostile to foreigners," he said.
Jerome Ngendakumano, who has been living at the camp since last year, said he was forced to close his business and sell off his inventory when the police instructed him to return to the camp after a run-in with the residents in Area 50 in Lilongwe.
Reacting to the concerns, Ministry of Homeland Security spokesperson Patrick Botha allayed the concerns, saying government took precautionary measures to protect the businesses of refugees and other foreigners nabbed during the sweeping exercise.
"We have deployed police officers to the sites where the foreigners were conducting their businesses," he said.
The sweeping exercise came after asylum seekers and refugees defied an earlier government deadline of April 15 to return to their designated campsites at Dzaleka.
Let us know what you think of this article and remember to add us on our facebook and follow us on our twitter. Come back daily for more Malawi business news.
Quick Links: Download Business eBooks | Ten Signs You Are An Entrepreneur | What is a Managing Director?
Latest posts by Vanessa Banda
(see all)