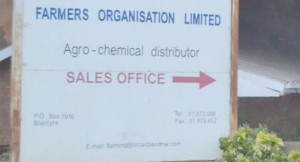 South Africa firm buys stake in Malawi company
Johannesburg Stock Exchange -listed chemicals and explosives manufacturer AECI has acquired a 100 percent stake in Malawian agrochemicals, seeds and spraying equipment distributor, Farmers Organisation Limited from Rendale Holdings.
Although AECI would not give the exact value of the transaction, it said it was worth hundreds of millions of rands as Farmers Organisation generated revenue of US$14 million in its last financial year to February.
The company said that the latest acquisition was part of its growth strategy to expand its agrochemical business in Africa.
AECI executive Edwin Ludick said AECI would use the purchase of Farmers Organisation as a springboard into Malawi and other countries in southern and east Africa.
He said the deal would be spearheaded by AECI subsidiary Nulandis, which was driving its growth strategy on the continent.
"Farmers Organisation has been our customer for 20 years, so we have a long-standing relationship," said Ludick, who is also the chairperson of Nulandis.
"This fits extremely well with Nulandis's own growth strategy, including greater focus on the smallholder market in Africa."
"Farmers Organisation is now a leader in Malawi's commercial estate market and revenue from the smallholder market segment is increasing," Ludick said.
The company said Farmers Organisation would continue distributing its products on behalf of multinational producers.
(Visited 47 times, 2 visits today)
Latest posts by Vanessa Banda
(see all)