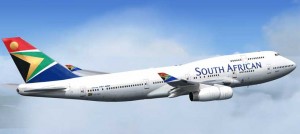 South African Airways adds flights to Lilongwe route
South African Airways (SAA) has added more flights on Wednesday and Saturday going to Kamuzu International Airport in Lilongwe which will see the airline operating on the route seven days a week.
Speaking during the launch on Saturday, SAA Acting Country Manager, Lawrence Gwaza, said it is the wish of his company to increase its operations to existing markets.
"Although the airline industry is unstable and fragmented, we are still recognising the need to expand to our profitable existing destinations like what is happening today. This will satisfy our customer requirements, enhance our efficiency, improve service quality and level the field of competition," Gwaza said.
While thanking government for approving the flights, Gwaza said the company also has plans to add more flight to Chileka International Airport.
"We hope that SAA will be granted more frequencies at Chileka Airport like all the other operators," he added.
Deputy Director of Civil Aviation, James Chakwera, said the new flights will have a positive impact on the air transport sector.
"This is a welcome development. It will definitely foster competition among operators. Eventually, it may lead to reduction of fares," Chakwera said.
He said government currently has plans to expand the airport's terminal building and that the project is expected to start early next year.
(Visited 109 times, 109 visits today)
Latest posts by Vanessa Banda
(see all)