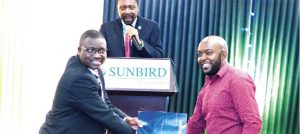 South African Airways rewards customers
Three people have won return air tickets to South Africa in the ongoing Voyager programme that South African Airways (SAA) is running to reward its Platinum and Lifetime members.
Voyager is Africa's leading loyalty programme where passengers earn various rewards by simply becoming a member and flying SAA or any of its Star Alliance partners.
Speaking during a Voyager Platinum dinner in Blantyre recently, SAA Sales Executive for Malawi, Wezi Mungoni, said customers are required to register their Voyager number on any booking to enjoy the benefits that come with the programme.
"There are five Lifetime Platinum members in Blantyre who enjoy various benefits on travel such as discounted flights, complimentary upgrades to business class, access to airport lounges, 32 kilogrammes extra on luggage, whether they are travelling in business or economy class, the list goes on and on.
"Apart from this, members from the lower tiers like Gold and Platinum have an extra 23 kilogrammes and access to SAA airport lounges," she said.
SAA Country Manager, James Chikaonda, said the Voyager programme would not have been possible without the support, friendship and trust of the airline's customers, both corporate and individual, at a time when the economic factors have not been reassuring but still they believed in the airline.
"SAA takes pride in having registered a huge growth in the membership of Voyager in Blue, Silver, Gold, Platinum and Lifetime Platinum tiers. The membership keeps growing and SAA is thankful indeed.
"Now that we have reached our full cruising speed and altitude, I wish you all an excellent and rewarding Voyager membership with its so many benefits that the programme offers. To you all our loyal customers, thank you for your custom and support. You all played a huge role in setting the success of this prestigious elite club and the success of the airline," Chikaonda said.
The programme is part of celebrations to mark 59 years since the first SSA flight flew into Blantyre in 1958.
"Time flies and South African Airways believes it has achieved quite a lot in such a remarkable period flying in and out of Malawi without interruption for that period of time," Chikaonda said.
(Visited 21 times, 21 visits today)
Latest posts by Vanessa Banda
(see all)