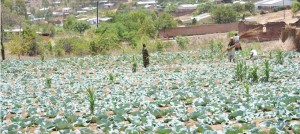 Special incentives to boost agriculture
Government is planning to introduce more incentives to boost investments in agriculture. Proposals include waiving duty on imported farm equipment and machinery.
Minister of Agriculture, George Chaponda, said the proposed incentives will be clearly spelt out in the National Agriculture Policy which is to be launched in October this year.
"We are working on modalities to mitigate climate change through irrigation farming. For this reason, we need to attract investors. We plan to achieve this through incentives in the form of duty waivers or reduced duty on imported machinery or equipment."
Chaponda further said the government plans to continue with its Green Belt initiative with the setting up of irrigation schemes in the Shire Valley and Bwanje, Valley before the end of the year.
"We have long term plans for the Shire Valley irrigation project which will cover over 40,000 hectares. The project is under feasibility study with funding from the World Bank and African Development Bank. The feasibility study is expected to be completed by December this year.
"Another scheme is being funded by the European Union in Bwanje Valley and it will be a rice and maize project," he said.
Chaponda said another irrigation scheme in Neno is currently under construction complete with an extensive solar power system.
"I am convinced that if we make full use of these projects and those that are in the pipeline, Malawi will shift from an area of exporting raw materials to a new era of exporting finished or semi-finished products . Consequently, we will be able to create additional employment in the sector," Chaponda said.
(Visited 28 times, 1 visits today)
Latest posts by Vanessa Banda
(see all)