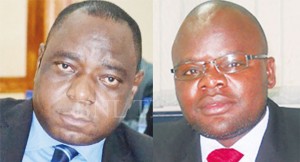 Speculators blamed for kwacha stumble
Experts have blamed speculative trading by foreign exchange players on the market for the recent fall in the value of the Malawi kwacha.
The Financial Dealers' Association of Malawi (Fimda) and an economic analyst have said there is a general expectation on the market that foreign exchange reserves will deplete in the coming months and that players have started taking positions.
Fimda president Alfred Nhlema said speculative positions have created excessive demand for forex to the extent that both banks and importers are now scrambling for the dollar.
Nhlema said this has happened possibly because market players did not read the market well in terms of anticipated tobacco sales volumes and the resultant dollar inflows.
"This year's tobacco sales season is a short one with reduced volumes and not so exciting prices; and with only three to four weeks to go before the selling season closes, the scramble for dollars is mounting," said Nhlema.
He explained that both banks and importers normally take positions just prior to the opening of the tobacco sales season and this started as early as February this year.
"Banks normally open short positions while importers start holding bank invoices in anticipation for the upcoming appreciation between March and September," he said.
On his part, economist Edward Chilima said expectations from tobacco sales were higher than the reality and that it was the situation on the tobacco market that has reduced confidence among market players.
He said there is now a strong perception that the country will have fewer reserves because of the poor performance of the tobacco market.
"Importers and banks are taking positions to buy in advance in anticipation of the currency weakening. The only problem is that as a country, we are a net importer, that is why we are facing this challenge," explained Chilima.
"If we want to be an exporting country, then this development is good. We should promote exports and the currency movement is good as long as it promotes exports; it will only be dangerous if it continues to fall. But this is not our expectation, the situation is temporary, and it will go," said Chilima.
Chilima also said it is only speculations by players that is causing the kwacha fall but the fact is that the country has adequate reserves.
"The Reserve Bank has three months cover while the market has two months forex cover. In total we have five months of cover. The normal demand is about US$200m which is currently being satisfied, so there is no crisis," said Chilima.
Reserve Bank of Malawi (RBM) spokesperson, Mbane Ngwira, also said the country has adequate foreign exchange reserves and that fears of forex shortages were unfounded.
"The depreciation is merely based on speculative tendencies by market players," said Ngwira.
(Visited 17 times, 17 visits today)
Latest posts by Vanessa Banda
(see all)