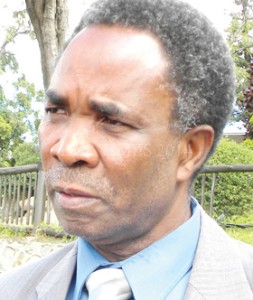 The Institute of Internal Auditors Says Malawi Cashgate Names Should Not Have Been Released
The Institute of Internal Auditors (IIAM) has joined voices querying the public disclosure of the contents of the Baker Tilly report on cashgate scandal citing the confidentiality clause in the professions' code of ethics as being against the release of audit results without proper grounds.
IIAM says audit reports must only be released to authorities who request for them or individuals who have engaged the auditor for information or corrective action.
IIAM President Andy Chitete said recently when releasing the audit report, the auditor needs to consider the duty of confidentiality imposed by his professional body's Code of Ethics and respect the value and ownership of the sought information.
"Ultimately, the auditor makes a professional judgment and decision about his or her obligations to the authorities. The decision to communicate outside the normal chain of command needs to be based on a well-informed opinion that the wrongdoing is supported by substantial and credible evidence and that a legal or regulatory imperative, or a professional or ethical obligation, requires further action," he said.
According to Chitete, unless there is a legal or professional obligation to make the contents of an audit report public, auditors must first seek the advice of a legal counsel and, if appropriate, other experts before proceeding.
"Audit reports, whether on routine audit work or on investigation contain confidential information for the authorities to take action. In this case, since the main user is the government through the Auditor General, it is within its prerogative to decide what to do with the report as long as it is within its legal mandate, of which the legal profession can shed more light. The legal profession can also shed more light on the disclaimers against negligence made by Baker Tilly," said Chitete.
He further said as long as the government is not violating the law and knowledge of the contents of the report, it will not jeopardise the current cases.
Chitete, however said in certain situations, it may be possible to release a special-purpose report based on an existing report or information to make the report suitable for dissemination outside the organisation.
"Certain information needs to remain confidential until proper corrective action is taken by the authorities. In this regard, I believe that the authorities took their decision of releasing the contents of the report after weighing the pros and cons of the decision. Another way of looking at it is to ask what could have been the impact if government had not released.
Latest posts by Vanessa Banda
(see all)