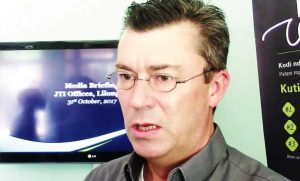 Stakeholders want Tobacco Act passed
Stakeholders in the tobacco industry have called on government and lawmakers to table and pass the Tobacco Act during the current sitting of Parliament.
This, they say, will strengthen and transform the industry which remains crucial to the Malawi economy as it contributes about 30 percent of the country's export earnings.
One of the tobacco buying companies, JTI Leaf Malawi, said passing the Act would help safeguard their investments.
JTI said the legal framework guarding the sector does not support their operations model which makes it tough to maintain the relevance of the crop to the economy.
JTI Leaf Malawi Managing Director, Fries Vanneste, said in an interview that his company and other tobacco buying companies would like to see Integrated Production System (IPS) being recognised in Malawi's legislation.
"The country's Tobacco Act was last amended in the 1970s and dates back to an era when sustainability, traceability or contract growing were not high on the agenda yet.
"With an updated Act in place, JTI trusts to see a more balanced supply and demand of tobacco, minimised fluctuations in tobacco leaf pricing and a greater stability for the future of tobacco farming in Malawi," Vanneste said.
Tobacco Control Commission (TCC) acting Chief Executive Officer, David Luka, said in a separate interview that passing of the bill would be crucial in rejuvenating the tobacco industry.
He said issues that are contained in the Act would see the industry being strengthened, resulting in better returns to the economy and farmers.
(Visited 11 times, 11 visits today)
Latest posts by Vanessa Banda
(see all)