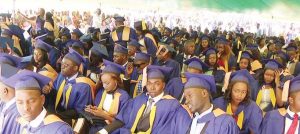 Standard Bank lobbies for youth engagement
Standard Bank Malawi says the next five years are critical for developing the skills that will allow Malawi's youth to meaningfully add to the dynamism of a growing agricultural, services and manufacturing economy.
The bank's Chief Executive Officer Andrew Mashanda has said however that if youth are not sufficiently engaged within the next decade, the demographic dividend might become a burden to the country.
Mashanda said a growth rate of between eight to 10 percent would be ideal to achieve this.
"Malawi's vast agricultural beneficiation and supply chain development potential is being supported by the rehabilitation of the country's two hydro-power stations, the management of siltation in the Shire River system that powers these stations, and the maintenance and expansion of the country's distribution grid," he said.
Mashanda added that combined with one of the youngest populations in Africa, this presents an opportunity for Malawi to develop a globally competitive export-led economy.
"This can be achieved through mass youth employment in coordinated, high tech and globally competitive agricultural production.
"But Implementation is key to reaching and sustaining the kind of accelerated growth levels that would turn Malawi's youth into a development asset," he said.
Mashanda further noted that Malawi is surrounded by three of East Africa's fastest growing economies; Tanzania, Mozambique and Zambia, all with rapidly growing middle classes.
"This bodes well for the development of Malawi's agricultural sector while also presenting potential as a services, logistics and transport hub once enabling legislation is in place, government efficiencies are improved, and market-oriented skills and infrastructure developed.
"Tourism, mining, services and industrial production, servicing the needs of a large domestic and much larger regional market, all presented opportunities for youth in a growing economy," he said.
(Visited 1 times, 1 visits today)
Latest posts by Vanessa Banda
(see all)