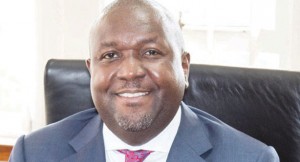 Standard Bank upbeat on 2015
Standard Bank is highly optimistic about an improved financial performance in 2015, saying it has managed to deal with regulatory and internal challenges that marginalised its profitability.
Standard Bank chief executive officer, Andrew Mashanda, said in an interview after the bank held its annual general meeting in Lilongwe that 2014 had challenges that required much attention, hence its marginal increase in profit at K12.3 billion.
"It was a very difficult year when we saw changes in regulation in liquidity reserving under Basel II that also had an impact on our performance. But I am pleased that in spite of all those challenges and the high inflation, we were able to deliver," said Mashanda.
He said some of the investments that the bank embarked on, particularly in digital space, have been made and that the bank is beginning to see returns of the investments.
Mashanda observed that Malawi now has a more stable currency and inflation rate, saying the macro economic situation enables proper planning and projections.
He said the bank will finance investments in energy and agriculture sectors which have high potential.
Among major deals facilitated in the last year, Standard Bank provided a US$30 million revolving facility for the importation of fuel, US$20 million funding to Malawi government backed fertiliser deals and US$14 million in agricultural loans.
Total assets for the year under review grew 15 percent over the same period in prior year emanating from an eight percent growth in customer deposits as the profit recorded was two percent more than last year.
(Visited 12 times, 1 visits today)
Latest posts by Vanessa Banda
(see all)