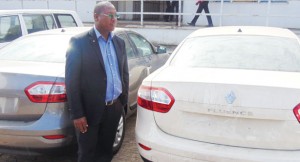 Stansfield brings back the Renault
One of the vehicle brands that used to be popular on the Malawi market prior to the new millennium, Renault, is back on the market following the return of the French car's franchise deal to Stansfield Motors Limited.
Stansfield is expected to re-launch the Renault in the country on Thursday, June 11, in Blantyre to mark its official return on the Malawi market after more than a decade without a local dealership.
Stansfield Motors general manager, Michael Khomani, said in an interview that the Renault franchise – which left Malawi in the 1990s, has returned to Stansfield as an extension of the company's attainment of the Nissan dealership early this year.
"As you may be aware, Renault and Nissan are joined together as an alliance through a cross-shareholding agreement at global level. So our getting the Nissan dealership through Nissan Malawi has also enabled us to get the Renault dealership back," said Khomani.
He said the return of Renault at Stansfield will fill the gap of smaller cars which the company had.
"Renault will bring a wide range of cars – both small and big, to our stock of vehicles," said Khomani.
He said Renault is also a well known brand, it's durable and comfortable with a proven track record in Malawi and on the global market.
"It is a major European brand and one of the best selling cars in the world," said Khomani.
Stansfield has since received a first consignment of the of Renault vehicles in three models namely Fluence – a 1.6 litre saloon car, Duster – a 1.6 litre, 4×2 high suspension vehicle and Koreos – a 2.4 litre engine, 4×4 vehicle.
More models are expected in the country in future, including a Renault pickup which is expected to be introduced in the country in 2017, according to Khomani.
Other dealerships under Stansfield include Mercedes Benz, GWM and Yamaha.
(Visited 18 times, 18 visits today)
Latest posts by Vanessa Banda
(see all)