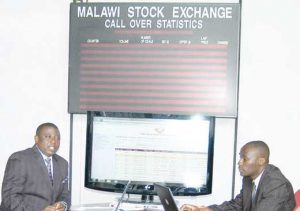 Stock market breaks 9-year listing drought
It does not need rocket science to prove that the year 2017 has been tough for most businesses, as they scaled down production due to intermittent power supply.
However, for the Malawi Stock Exchange (MSE), 2017 will go down in history as the year the market ended its nine-year listing drought following the listing of Mauritius registered FMB Capital Holdings (FMBCH).
The listing of FMBCH brought the number of listed companies on the local bourse to 14, though temporarily, as FMB has expressed intention to delist the bank.
FMBCH is a holding company of First Merchant Bank (FMB), which currently has operations in Botswana, Zambia, Tanzania, Mozambique, Zimbabwe and Malawi.
FMB announced the formation of the holding company, headquartered in Mauritius, mid this year to create a better platform to raise capital.
Reserve Bank of Malawi (RBM) Governor, Dalitso Kabambe earlier said the stock market has a critical role to play in the development of the country.
Kabambe said the stock market provides an alternative platform to raise cheap capital which could help businesses to boost their operations and create jobs.
He said while firms are now in dire need of capital for expansion in order to increase output, funds are also growing rapidly outside the stock exchange, especially in areas of pension and life insurance.
"It is estimated that, by next year, 2018, the country will have a combined total of pension funds and life insurance funds to the tune of K1.4 trillion, against a total equity at the MSE of K762 billion.
"This, if not addressed by listing more companies on the MSE, will likely cause sub-optimal asset allocation, liquidity issues and an asset bubble. We have to avoid this at all costs, and the development of a stock market is a sure way of meeting the objective," he said.
MSE Chairman, Augustine Chithenga, attributed the listing drought on the market over the past nine years to fear of the unknown among businesses.
Chithenga said there are plenty of companies who could raise cheap capital through listing on the market but are unable to do so.
"We see a number of potential companies, which could raise cheap capital to boost their enterprises in Malawi but we don't know what they fear," Chithenga said.
The Malawi Confederation of Chambers of Commerce and Industry (MCCCI)
said there are a number of reasons why local firms are failing to access cheap capital through listing.
MCCCI Chief Executive Officer, Chancellor Kaferapanjira, said the majority of businesses of Malawian origin are family-owned and as such, they do not want to dilute their shareholding and lose their influence or power by listing on the stock exchange.
"This is very fundamental as these companies do not necessarily want to expand quickly as well. It is not in their interest because such expansion would require external capital.
"Secondly, there is also a lot of equivalents to Islamic financing in most Malawian-owned businesses. According to our database, the majority of Malawian-owned businesses are owned by Malawians of Islamic faith and these businesses lend capital to each other in line with Islamic banking principles. Consequently, they do not see the need to list on the stock exchange," Kaferapanjira said.
He further said listing requires a lot of transparency including transparency of financial dealings, a thing some of the companies prefer to keep to themselves.
The industry chief added that the majority of businesses in Malawi serve the domestic market and recent economic impact on disposable incomes has resulted in a market that is not expanding to the extent of requiring expansion of existing businesses.
"One would easily mistake the increase in imports as a reflection of higher disposable incomes in Malawi. These imports have established their brands in Malawi and some of them take place between related companies.
"As such, there would not necessarily be an opportunity to require expansion of existing businesses," Kaferapanjira said.
Indigenous Businesses Association of Malawi (Ibam) President, Mike Mlombwa, said giving information to potential firms in a language they understand could be key in boosting the number of listed companies.
He observed that sometimes the technical language used in investment is not conducive enough to convince company owners to list their firms.
Old Mutual Investment Group Managing Director, Mark Mikwamba, proposed the implementation of deliberate tax incentives to attract firms to invest on the local market.
Mikwamba said government may not lose revenue through the tax incentives as it would result in many shareholders paying more in tax from dividends.
MSE Chief Executive Officer, John Kamanga, is optimistic of a bright future for the market, saying the bourse expects more new entrants in future.
Kamanga said MSE has intensified targeted meetings with potential companies so as to enlighten them on the advantages of listing.
"The whole idea is to hear from the firms as to what keeps them away from the market so that we understand how best to assist them. We are optimistic the meetings will yield positive results," Kamanga said.
Latest posts by Vanessa Banda
(see all)