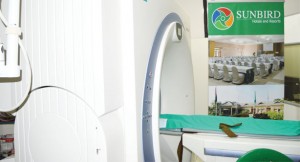 Sunbird donates to Adventist Hospital
Sunbird Tourism Limited has donated K500,000 as its contribution towards a fund raising initiative for the purchase of a vital injector for a heart scanning machine at Blantyre Adventist Hospital (BAH).
BAH cardiologist, Priester Tiffany, said BAH needs US$4,500 (about K2.7 million) to buy an injector for the Computed Comography (CT) machine which is used in the diagnosis and treatment of heart problems.
The hospital also needs US$25,000 (K15 million) for the maintenance of the CT scan.
Tiffany said in the absence of a functioning CT scan at BAH, some patients with heart problems are having to travel to South Africa for heart scanning and treatment.
"In 2014 alone, we managed to scan about 1,400 patients and if the machine is fixed, we will be able to attend to as many patients as possible," said Tiffany.
Sunbird Malawi public relations officer, Akossa Mphepo, said although the donation was small, the gesture goes long way in encouraging other well wishers to follow suit.
"We are making a call to the cooperate world to give something so that the machine keeps running," said Mphepo.
(Visited 3 times, 3 visits today)
Latest posts by Vanessa Banda
(see all)