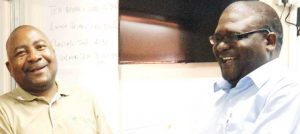 Sunbird drills managers in emotional intelligence
People management, performance management and strategic management skills are being described as the core values to boosting hotel and accommodation services in the country.
This is according to an expert in the field, Collins Mayeso Jambo, who is also Chief Management Development Consultant at the Malawi Institute of Management (MIM).
This follows a two-day workshop one of the players in the hospitality industry, Sunbird Tourism Limited, organised for its managers in Lilongwe.
Jambo pointed out that growing competition in the industry has forced hotel operators to start employing professionals in a quest to deliver in people management especially their customers.
He said the development has led to an improvement in hotel services in the country.
"The workshop focused on sharpening the manager's skills in leadership, management and the modern world, emotional intelligence and organisation culture and performance management," Jambo said.
Sunbird's Chief Human Capital and Development Officer, Edward Chunga, said the company realises the need to up their game and stay ahead of competition in the market.
"We believe that leadership is very critical to success and we decided to engage MIM to impart leadership skills to our managers, we believe that when they are well equipped with these skills, they will run our hotels better," Chunga said.
One of the trainees, Richard Mwase who is also Operations Manager at Sunbird Mzuzu, said the workshop was timely.
"Leadership is about looking after colleagues as you do your day to day activities, influencing them to have right attitude, so this training will assist us to grow in knowledge and transfer the same knowledge to our colleagues in the various hotels we operate," Mwase said.
(Visited 28 times, 2 visits today)
Latest posts by Vanessa Banda
(see all)