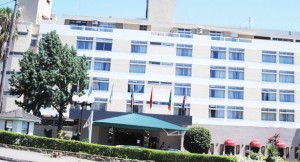 Sunbird hosts HR, finance managers
Sunbird Tourism Limited says it is committed to continue providing excellent hospitality services in all its business units.
Sunbird finance director, Patrick Lisilira, was speaking in Blantyre on Thursday during a cocktail party the company hosted for human resources and finance directors and managers.
Lisilira said the company believes that excellent customer service will set it apart from the rest, therefore its commitment to continue improving in the area.
He also took some time to explain some of the new developments taking place in the group's hospitality units.
Among others, Sunbird plans to open a gym at Mount Soche in Blantyre.
Lisilira described the first six months of the year as good for business, thanks to the support from customers.
The event saw Sunbird giving away various prizes to lucky invited guests through a raffle draw.
Sunbird has seven hospitality units namely; Mount Soche, Ku Chawe, Nkopola, Lilongwe, Capital, Livingstonia and Mzuzu. Government holds 72 percent stakes in Sunbird with Noel Hayes having 16.44 percent and the public 12.56 percent
(Visited 23 times, 1 visits today)
Latest posts by Vanessa Banda
(see all)