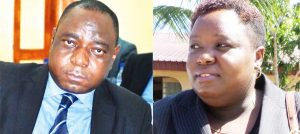 Suspicion over interest rates | The Times Group
At a time when most banks are reducing their base lending rates as a reaction to a decision by the Monetary Policy Committee of the Reserve Bank of Malawi (RBM) to cut the policy rate, calls have emerged for authorities to investigate the banking sector over the possibility that the banks are colluding when setting interest rates.
Collusion is a non-competitive agreement between rivals that attempts to disrupt the market's equilibrium.
Results of a study done by professor of economics, Ben Kalua and Gowokani Chirwa, suggest that commercial banks are following price leadership collusion when setting interest rates where one firm serves as an industry leader and sets prices, while other firms raise and lower their prices to match.
According to findings of the study, policies being advanced by the RBM and an environment that does not promote competition are some of the factors that have contributed to the conduct of collusive pricing.
Two weeks ago, RBM announced a cut in the policy rate from 24 percent to 22 percent following an improvement in inflation. Following the decision, banks have since adjusted their base rates with most pegging their rates between 30 and 31 percent.
Commenting on the development, Kalua said the banking sector is still not competitive and requires intervention from authorities to protect consumers.
He said in their investigations, trends in the Malawi banking context indicate collusive behavior in lending rates and foreign exchange transactions.
The study was commissioned by the Competition and Fair Trading Commission (CFTC) over a year ago, and assesses competition and banking industry regulation in Malawi.
"In spite of high market concentration and the existence of associations which could provide a platform for collusion, such as the Bankers Association of Malawi and the Financial Dealers Association, it has been the institutional framework, through central bank interventions and the environment, through government borrowing, that have been complicit in facilitating the collusion," reads part of the study which is available on the CFTC website.
The report further suggests that developments in bank pricing conduct have left the weaker segments of the economy, the low income and micro, small and medium enterprises exposed to the effects of monetary policy instruments such as the bank rate and foreign exchange rate interventions against inflation.
Kalua said among their major recommendations, the RBM needs to be sensitive to the effects that its policies have on the banking sector.
When contacted, RBM publicist, Mbane Ngwira, said the central bank was yet to receive a copy of the study and as such could not comment on its contents.
But according to Kalua, the findings were unveiled to stakeholders, including representatives from RBM, industry and financial institutions.
CFTC Executive Director Wezi Malonda said if there is evidence of collusion in the determination of interest rates by commercial banks that would constitute a violation of the Competition and Fair Trading Act for which the Commission would take stern action.
Bam President Bernadetta Mondoloma said she was no longer mandated to speak on behalf on the association as she was no longer working in the banking industry.
Attempts to speak to Bam Executive Director Lyness Nkungula were also unsuccessful.
Bam First Vice President Andrew Mashanda was yet to respond to our questions when we went to press.
But an economic commentator who chose not to be named said it would require time to gather enough evidence to establish whether or not banks are engaging in collusive behavior.
He said among other requirements, one would need to analyse the players in the banking industry and look at their pay structures, costs and other variables that influence their decision on base rates.
Kalua and Chirwa's study used a model incorporating bank-specific, industry-specific and macroeconomic determinants of conduct and performance applied on monthly observations from January 2005 to March 2014 from a representative panel of six of the eleven licensed banks operating in the country.
(Visited 16 times, 16 visits today)
Latest posts by Vanessa Banda
(see all)