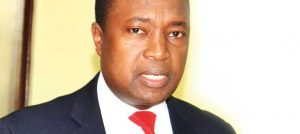 Sustaining economic stability crucial | The Times Group
By Taonga Sabola:
The government has said it is making every effort to ensure that the current macroeconomic stability is sustained.
Agriculture Minister, Joseph Mwanamvekha, said this in Mangochi District when he opened the 2018 Economics Conference organised by the Economics Association of Malawi).
Mwanamvekha said the government is aware that, for Malawi to achieve the economic growth it desires, there is need for the creation of a conducive environment for private sector to thrive.
He said Capital Hill would ensure macroeconomic stability by formulating policies that would improve access to finance and prioritise investments in infrastructure to reduce the cost of doing business.
"For instance, to respond to the growing demand and electricity supply shortages, government has identified a number of investment projects in the energy sector such as the Mpatamanga and Kholombidzo Hydropower projects.

"Government intends to develop these projects through Public Private Partnerships (PPP) and this is an opportunity for the private sector to complement government's efforts by investing in the energy sector," Mwanamvekha said.
He said the government has come up with the National Agriculture Investment Plan to boost the sector's contribution to the economy.
Agriculture accounts for about 30 percent of the country's GDP, employs around 64 percent of the labour force, and contributes about 75 percent of export earnings.
However, for a long time, its contribution to the country's economic growth and development has remained below par due to continued use of outdated agricultural production technologies; climate change; and low level of irrigation development and commercial agriculture.
Mwanamvekha said the overall goal of the National Agriculture Investment Plan is to realise agricultural transformation that will significantly increase incomes, food security, and nutritional status of Malawians.
Reserve Bank of Malawi Governor, Dalitso Kabambe, said the monetary authorities are focused on achieving a five percent inflation rate by the first quarter of 2021.
Kabambe added that the exchange rate has defied the infamous seasonality adage as it has remained broadly stable for over two years now coupled with a build-up of official reserves from less than a month back in 2012 to consistently above three months for over two years.
He said the plan is to get official reserves to six months of import cover by the first quarter of 2021.
The RBM chief added that the plan is to bring the policy rate down to 11 percent by the first quarter of 2021 when inflation will be at five percent and official reserves at six months.
"Commercial Banks will also be expected to bring down their base lending rates closer to the policy rate.

"Growth is also moving from a subdued position of 2.6 percent in 2016 to 5.1 percent in 2017, 4.0 percent in 2018 and 4.1 percent in 2019. Growth is expected to pick up to seven percent in 2021," Kabambe said.
Latest posts by Vanessa Banda
(see all)