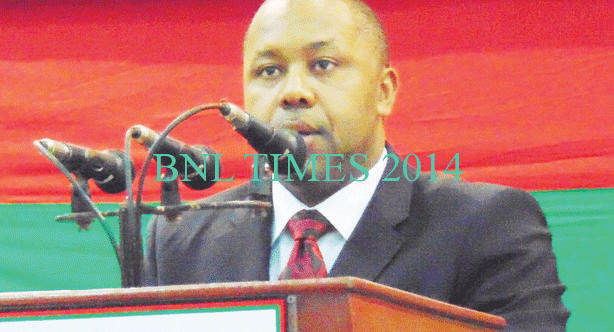 Saulos Chilima Urges Insurance Companies To Expand Their Services To Rural Areas
Malawi Government has challenged the country's insurance companies to expand their services to more people especially in the rural areas as one way of improving financial inclusion and developing the local economy.
Vice President Saulos Chilima made the call on Friday in Mangochi when he opened a three day Insurance Institute of Malawi (IIM) annual general conference themed; 'Emerging Themes in the Insurance Industry'.
Chilima said insurance companies should work extra hard to convince many Malawians to start covering their lives, properties and businesses. He said this can be possible if the players in the industry can be vigilant in bringing their products and service closer to the people.
"Insurance plays an integral part in developing economies such as Malawi where people require more coverage in cases of disasters like the current fires that have been gutting various public and private establishments in the past few months," said Chilima.
Chilima also urged the local insurance industry to be dynamic and responsive to local and global trends, warning that the industry is currently going through a metamorphosis in that new and existing products as well as risks are emerging. "You cannot afford to fold your hands and act indifferently," said Chilima.
On the global market, said Chilima, the insurance industry has experienced a rough patch over the past few years due to volatile financial markets and hinted that while improvements are expected in the short term, the development is likely to be challenged by low interest rates, evolving regulations and complex products mixes among other challenges.
He, however, promised that the Malawi government will continue to provide a conducive environment for the business community to successfully operate.
In his remarks, IIM president Lawrence Mtambalika hailed government's support to the insurance industry through the Reserve Bank of Malawi (RBM) who – he said, have recently issued several directives aimed at empowering and regulating the insurance industry.
He cited the directive on payment of premiums which he said has helped almost all insurance companies in the country to register tremendous growth.
Mtambalika, however, expressed worry with the increase in dubious claims most companies are receiving, saying that if the development will not be addressed through regulations, it is likely to threaten the existence of some upcoming companies.
"Sound and financially stable insurance companies are a catalyst for economic growth as they spur confidence in other stakeholders of the economy thereby helping unlock funds and allow companies to operate at full throttle which in turn can help in creating employment as well as generating forex and other taxes for our economy," said Mtambalika.
Latest posts by Vanessa Banda
(see all)