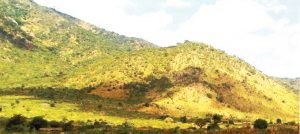 Talaxis to fund Songwe project
Mkango Resources Limited has entered into an agreement with Talaxis Limited, a wholly owned subsidiary of Noble Group Limited, to fully fund a bankable feasibility study for the rare earths project at Songwe Hill in Phalombe.
According to the agreement, Talaxis will invest £12 million for the feasibility study to be conducted in three tranches; the first tranche of £2 million will be invested on receipt of regulatory approval.
Talaxis will also have the option to acquire a further 26 percent interest in the project by arranging funding for project development.
Talaxis may also acquire up to a 49 percent interest in a new venture to be established by Mkango, focused on neodymium alloy powders, magnet and other technologies, including Mkango's collaboration with Metalysis, by investing £2 million in two tranches.
Mkango Chief Executive Officer, William Dawes, said the agreement will benefit Malawi.
"This transaction is transformational for Mkango and for Malawi, and is a further endorsement of the company's strategy and potential. The agreement significantly strengthens our balance sheet whilst ensuring that the company is fully funded to progress Songwe and our collaboration with Metalysis.
"It also comes at a pivotal time in the rare earth market with a very strong demand outlook for rare earths such as neodymium and praseodymium used in permanent magnets for electric vehicles, wind turbines and other clean technology applications," he said.
Dawes said Mkango is very excited to be working with Talaxis moving forward with the bankable feasibility study for Songwe and phase II of the research and development programme with Metalysis.
Talaxis Executive Director, Daniel Mamadou, said the global push to decarbonise the economy is creating pressure on the supply of critical elements to the green tech sector.
"Environmental regulation and policy changes are driving the price of technology metals. Supported by our access to global logistics capabilities, an extensive marketing network and a team of experienced professionals, Talaxis is pleased to enter into this agreement, which further strengthens our supply chain specialised in tech metal products," he said.
(Visited 68 times, 68 visits today)
Latest posts by Vanessa Banda
(see all)