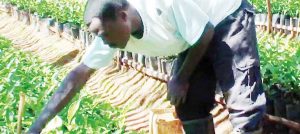 Tea industry at risk | The Times Group
The Tea Association of Malawi (Taml) has said the sector is currently losing a lot of revenue due to persistent power blackouts that have resulted in tea factories throwing away tonnes of green tea on a daily basis.
Taml Chairperson, Sangwani Hara, said although Kenya is experiencing a drought, Malawi is failing to capitalize on sales because the power deficit has left most players operating below capacity.
He was speaking on Tuesday when the European Union Ambassador to Malawi, Marchel Gerrmann, visited the Limbe Tea Auction.
"The continued power outages have affected the sector a lot. This is our peak period but we are failing to process tea as we have no power.
"Estates are relying on generators which are costly. A lot of tea is being thrown away and wasted on a daily basis because it is not being processed," Hara said.
But he said the pledge from the EU to support the industry will boost revenues and job creation.
Commenting on market performance, Hara said the market is fetching better prices this year as compared to the same period last year.
"The market is getting better as witnessed by the good prices offered today. This is also because Kenya is currently experiencing a drought hence buyers are coming to the Limbe Auction," Hara said.
But in his remarks, Gerrmann observed that the auction lacks competition as it only has few buyers.
The Ambassador also pledged EU support to the country's tea sector, for its key role in employment creation.
"The Limbe Tea Auction is a well organised market but lacks competition which makes the prices to be lower. As EU, we realise the importance of the tea sector to Malawi's economy hence I am here to learn more about the industry," Gerrmann said.
He said being the largest private sector employer; EU will implement projects that will assist the sector in job creation.
Gerrmann said Malawi tea has the potential to penetrate through the European Market.
"Malawi tea is one of the best teas and it is already being used in Europe for blending, hence it cannot find it difficult to penetrate through the EU market," he said.
During the auction, the lowest tea grade fetched $0.95 while PF1SC attracted the highest price of $2.43.
(Visited 9 times, 9 visits today)
Latest posts by Vanessa Banda
(see all)